I want to share with you my top ten travel moments of 2019! From exploring far away places like China, Hong Kong and Mexico, to near by places such as Kansas and Texas and even Canadian spots such as Tobermory and Toronto, 2019 was a great year for travel! I got to go on my first cruise which was a fun experience. I also visited my first continent outside of North America (Asia).
"It's a dangerous business, Frodo, going out your door. You step onto the road, and if you don't keep your feet, there's no knowing where you might be swept off to." – J.R.R. Tolkien (Lord of the Rings)
I absolutely love this quote because it's so true! Once you are off on an adventure, you have no idea where you will end up.
It's always fun to look back on the moments that made you smile and wish you could go back to the place you were in! The world is such a big exciting place and I love exploring it!
I am not sure where I will go in 2020 yet, but 2019 was amazing for me. So without further ado, in no certain order really, here are My Top Ten Travel Moments of 2019! (I can never decide which is my greatest moment, they are all wonderful!)
My Top Ten Travel Moments of 2019
Number 1. Climbing the Great Wall of China
I got to go to China with my brother in October of this year. That in itself was a crazy experience! I had never been outside North America before and it was such a culture shock. But I am so glad I got the chance to go and explore a new part of the world. It really boosted my confidence and helped me to step outside my comfort zone.
Climbing the Great Wall was easily one of the coolest things I've ever done. It's such a huge part of Chinese history and to get to experience that was incredible. The views were amazing from anywhere on the wall and I couldn't help but stop to take pictures. However, I also stopped a lot to let my lungs and legs get a break haha! I was jet lagged while doing it and also probably out of shape, so I was exhausted and sore the next day, but it was 100 percent worth it!
2. Swimming in the Pacific Ocean
My sister and I took a trip to California to visit family and see the Jonas Brothers at a concert in the Hollywood Bowl! That trip in itself had some amazing moments, but one thing I loved was swimming in the Pacific Ocean for the first time. An item on my bucket list is to see all the oceans, and so to add another one to my checked off list was pretty great! California was such a fun state with so much to see and do, I still have so many items on my bucket list for this state! I will be writing some blog posts on Cali soon, so keep checking back 🙂
3.Chef's Table on the Carnival Vista
In January, I got to take a cruise with Carnival with some friends. I flew into Texas and met them there. We got to explore San Antonio, see the Alamo, and then we drove to Galveston where we boarded the cruise. We were on the Carnival Vista and our stops were Cozumel, Mexico and Grand Cayman Island.
While on board the ship, there was so much to do, (like play basketball!) but one thing I especially loved was getting to take part in the Chef's Table with one of my good friends! The Chef's Table was a small group of no more than 14 people. You get a tour of the galley and are served a full course dinner with options not found on the regular dining menu! Being a huge foodie, this was such an incredible experience for me.
4.Visiting Nanchang, China
Nanchang is the capital of Jiangxi Province in China. It was one of my favourite places in China, hands down! I met some incredible people there, the food was so tasty, and the city itself was beautiful. Qiushui Square is a must see in Nanchang! If you are lucky you will catch a musical show at the water fountain there.
Some of the best food I tried in China was in Nanchang. Homemade dumplings, poke cake, coconut mango pudding, peking duck, hot pot, seafood, Korean BBQ and so much more! Definitely with good reason this made it to My Top Ten Travel Moments of 2019. Check out more of my posts for other fun things we did in Nanchang!
My Top Ten Travel Moments of 2019
Number 5. Exploring Tobermory, Canada
I grew up in Ontario near Toronto, Canada but I had never been to Tobermory. This beautiful village is located on the Bruce Peninsula. In May I took a trip back to Ontario to visit friends and family. One of my friends and I took a road trip to Tobermory where we spent two days. We did some hiking, ate some fish and chips, rode a boat with a glass bottom, saw Flowerpot Island and had some ice cream! It was such a fun time and I would love to go back. There was lots more hiking we could have done and if it was warmer it would have been neat to swim! If you are planning a trip to this beautiful place, check out 8 things to do in Tobermory. Maybe it will be on your top 10 travel moments for next year!
6. Seeing the Cherry Blossom Festival in Toronto
While in Ontario, I visited my other friend in Toronto and we got to see the Cherry Blossom Festival. There was so many people, especially Japanese and it was hard to get pictures. But it was so cool to see the pretty blossoms and get to experience it with my friend. We had so much fun together and we also did some baking. She has a baking business in Toronto, so if you're in that area, check her out! Or follow her on Instagram!
7. Getting my Chinese Visa
Many of my Top 10 Travel Moments of 2019 would not have happened if it wasn't for this very important event! However, it wasn't an easy feat for me to get a Chinese Visa. So many things went wrong!
My summer was spent working 90 hours a week and I crazily decided to plan a trip to China with my brother in the midst of that. To get a Chinese visa, I had to have a photo taken at this special place about an hour from work. I also had to fill out an online application, and then drive all the way to Ottawa to officially apply and get fingerprinted.
One evening, I got off from work early to get my picture taken only to arrive just as they were closing. So I ended up having to make another trip!
Then, while filling out the application form online for my visa, it seemed like every time I tried to start it, something went wrong. I forgot my laptop one time, another time I left my passport at my house when I went to my parents to fill it out and I needed my number off it. Another time, I lost all my saved progress. It got to the point where I almost gave up and said it wasn't meant to be. However, I am so glad I didn't give up and kept pursuing my dreams! Thanks to my brother for encouraging me!
The next step was to drive to Ottawa, the nearest place to where I live (PEI, Canada) to get finger printed and officially apply for my visa. It just so happens, my brother had a job to do in Quebec which is 5 hours away from Ottawa. So I took 2 days off work, and right after work one night we headed to Quebec, 7 hours away. We drove straight through the night and when we arrived in the morning, my brother did what he needed to do and then we drove to Ottawa where we spent the night with family.
The next morning, I had booked an appointment at the Chinese Visa Application Center at 9:15. Turns out I also needed a special prepaid envelope and the post office didn't open until 10. We drove around frantically looking for a place to buy this envelope. We finally found a superstore with a post office that opened at 9. I was never more relieved to see a face than the girl's who was standing at the counter that morning!
Then we got to the Chinese Visa Application Center and found out you had to have everything booked before you can apply for a visa: flight, hotels, etc. They want record of where you will be the entire time you are in the country! However, I didn't know all the details of my trip yet because my brother was waiting to book his flights, etc . (He had already been finger printed so he was good!) However, if I didn't get finger printed today, I wouldn't be going to China because there was no way I was getting back to Ottawa anytime soon. So on whim, I booked my flight and hotels (some we ended up canceling and rebooking as our plans changed a bit!) but it was a very stressful few hours.
I finally applied for my visa! As soon as they take your passport (they mail it back to you a few days later!) you are approved for the visa but I wouldn't believe it until my passport was back in my hands with the Chinese visa inside!
So there is a huge shout out to my brother, since without him, my trip to China would not have been possible. Keith, you are the best! So glad to have been able to experience China with you.
8. Hiking on Santa Cruz Island
While in California, my sister and I got to take a catamaran to Santa Cruz Island where we spent the day hiking with some family. It was so much fun! The views of the Pacific Ocean were unbeatable and the weather was just perfect. Any warmer and it would have been too hot! We had packed a lunch and we ate it on the island. It was such a neat experience and I took lots of pictures! This is a fun idea if you are near the Santa Barbara area in California!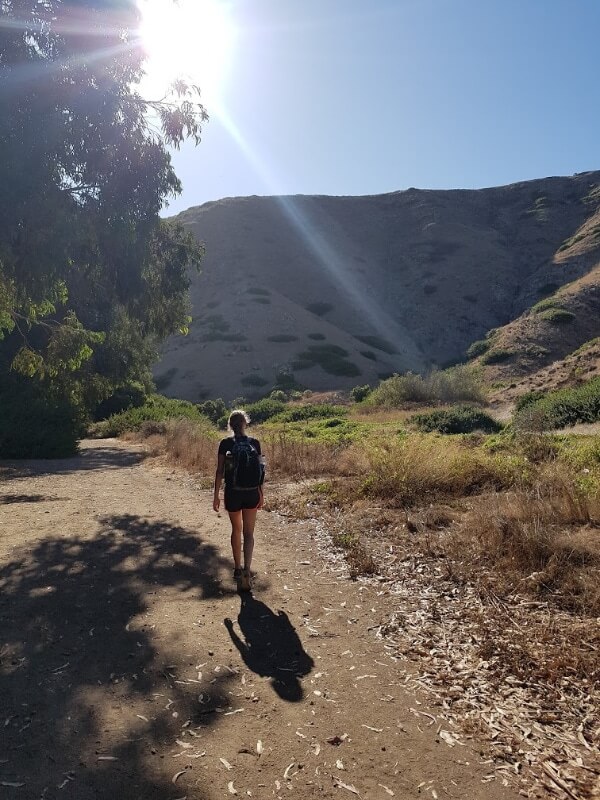 9. Terracotta Army
To be completely honest, I had never heard of the Emperor Qinshihuang's Mausoleum Site Museum until my trip to China! (Yes, I know, you're probably thinking "What?!") But no, I really hadn't. However, I am so glad I could see this amazing museum while I was in China. I had so many people say how lucky I was to see it! And I definitely feel very blessed to be able to travel and see the cool things the world has to offer.
Seeing this clay army left me with a very cool feeling. So strange to think that an emperor would have an replica made of his entire army. And to think that there are people still restoring parts of this huge army. Crazy to think, 6000+ figures are already restored! This museum is a must see!
My Top Ten Travel Moments of 2019
Number 10. Visiting Hong Kong
Visiting Hong Kong was a great experience for me and is on my Top Ten Travel Moments of 2019 for good reason! There were so many different people living there from all over the world and I got to make friends with Filipinos, South Africans, Canadians and Americans.
I love how the world is so big yet so small and it brings us all together in weird ways. We connect over food, experiences, laughs and tears and you never know who you will meet! Hong Kong had some great food, amazing views, pretty sea shells and flowers, and good drinks. I even took a step closer to conquering my fear of heights by riding in a cable car. I will definitely visit this cool place again! You can read all about it in the other posts on my blog.
Special thanks to my friend Jessica for helping with the photo edits on most of these photos! She's amazing!
Thank you so much for reading this post. Maybe you've been following me for awhile and been with me on my China adventures or maybe you're new here. Either way, welcome and hope to share my 2020 adventures with you! The travels start Feb 1st, so stay tuned!