Bayi Square: Day 19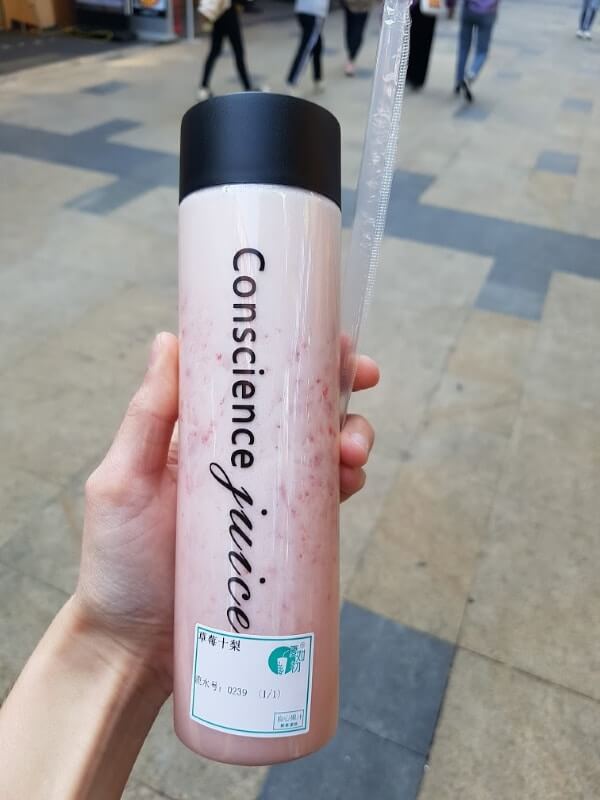 Saturday morning we got up and decided to explore. We got some fruit drinks and I chose strawberry pear drink, which was delicious. The bottles they put the drinks in are so cute and the fruit is all fresh! We took the subway to Bayi square and saw the Memorial. Then we went to the Walmart that was nearby. It was funny to be in a Walmart in China. There was lots of cool stuff inside. There was chicken feet for sale, fresh fish, and pick-your-own-crab! They even had a whole deli section : complete with tofu and buk choy of course!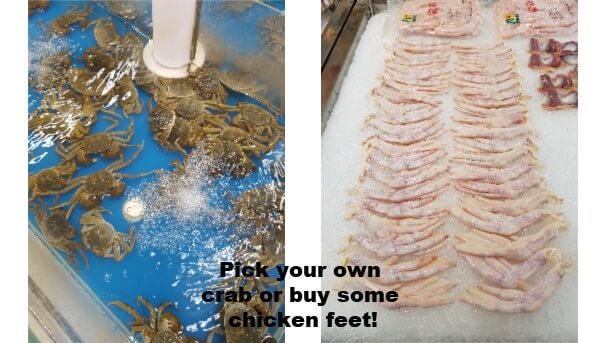 I love exploring in China because there is always something interesting to see! We walked around Bayi Square to see what there was. We saw a lady with at least 30 balloons, walking around. Lunch was very spicy so I couldn't eat a lot. It was some sort of shredded potatoes, a dish of tofu, and then some sort of very tender pork.
Then instead of taking the subway back to our hotel, which was on the other side of the Ganjiang River, we walked all the way back. So we walked all the way along the river, across a long bridge and then back to our hotel.
As we were crossing the bridge, we saw some fishing boats anchored to the shore. They were using nets to take the fish they had caught out of their holds. They had some pretty big ones! Some of the fish they killed and gutted right there and some they put into tubs with water still alive. I saw a lot of what looked liked husbands and wives working together.
Hot Pot
We met up with some other teachers from Canada who were going to be teaching at the same school as Keith. For supper, we all went out for hot pot. That was a cool experience! A young Chinese girl working there, probably about 15 or 16 years old, came up to me and wanted a picture with me. Then using her phone app, she told me to tell her if I needed anything. There was a spot to make your own sauce, with some many different sauces and spices to chose from. One of the chef's there made me a sauce. We had beef, corn, potatoes, and black fungus (mushrooms) to cook in our hot pot. It was all so delicious!
Then my brother and I walked to Qiushui Square in hopes to see the water fountain show but we didn't get to. We did see a cool light and animation show that played out on the huge buildings on both sides of the river. We also got some ice cream that had dragon fruit and watermelon and chocolate syrup on top.
Lazy Sunday: Day 20
Sunday was a lazy day as we were tired from all the walking yesterday! We went back to Mr. Waffle and ate a "brunch" of waffles. Mine was almond and dipped in chocolate, so good! Then we did some shopping and got some more fruit. I also got some yam crisps, a slice of pizza and a Dove chocolate bar. It is always so cool to go into the grocery store here and see all the different things they have.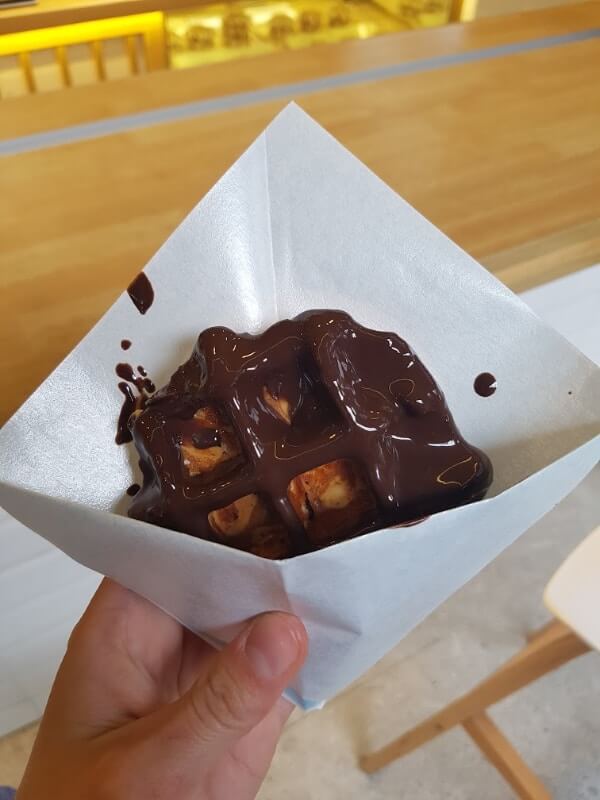 The pizza slice they put in a plastic bag which I thought was interesting. It wasn't the best pizza I ever had, it was sweet but tasted okay. The chocolate was exactly the same I would say, which was good because I was craving some good chocolate. The yam crisps had a picture of a tomato on them so not sure if they were supposed to be ketchup flavored? They tasted very mild but were very good!
As we were wandering through the mall, I saw the chef who had made my sauce in the restaurant the night before! Who says China is big? In the afternoon, I just watched some Netflix. For supper we found a little restaurant and ordered noodles and rice, a clam dish and some sort of beef. The clams were in a buttery sauce and it was so good!
Then we took the subway to Quishui Square. On the way, we met a lady and her daughter who knew a bit of English. It was fun to talk to them. I saw a really cool yellow Lamborghini! We wanted to see the water fountain show, but I think we ended up missing it. So we walked around and found some other cool things. There are so many lights and colors, I could never get tired of looking at it all!
Korean BBQ: Day 21
Monday was rainy for the first time since we had been in China. We tried the hotel breakfast (it wasn't included so we had to pay extra) and it was pretty good. They had eggs and bacon and toast and yogurt and a few other interesting things. Then we ate some packaged Ramen noodles for lunch and then headed to the college. We had a driver pick us up which was nice so we didn't have to walk in the rain.
For supper, we (my brother and the other two teachers), went to a Korean BBQ place which was amazing! We all had some sort of spicy noodles in our separate bowls. And then a lady stood at our table and cooked us all kinds of beef, pork, mushrooms, potatoes and tofu on the little grill on our table. It was such a neat experience and the food was so good! Plus, our bill only came to 205 RMB which worked out to be about $10 CAD per person!
Tuesday in Nanchang: Day 22
We have seen a few cat cafes while being here which is so cute! It is basically a place to get coffee and hang out with cats that are sleeping or playing. I have even seen a few Siamese cats.
Tuesday I got a donut for breakfast and then we walked to a little barber shop where Keith got a hair cut. For lunch we had pasta and scallops and I tried a can of this tea. Normally, I can never finish anything in a can (I don't like pop), but I couldn't get enough of this stuff! It says herbal tea on the can and it tastes just like sweet tea you can get in the Southern States! For supper we had fish, rice, noodles and spicy green beans. The rice was delicious. Probably the only time I liked the rice better than the noodles! The beans were too spicy for me to eat but I loved the fish!
Pizza Hut: Day 23
Wednesday, we had lunch with two of the students. We all got a plate of rice and they helped me chose some items that weren't very spicy. They did well, I ended up with some corn that was cooked perfectly and some potatoes that only had a bit of spice. We talked with them a little bit which was fun.
For supper my brother and I went to Pizza hut. We had seen on the door there was some sort of special on Wednesdays. However, google translate nor the students could properly translate what is actually was a special on. So we went inside and pointed to the sign. Basically, there were 2 items on special for 29 RMB, one normally 75 RMB and the other 50 RMB. We got both of them as well as a normal pizza.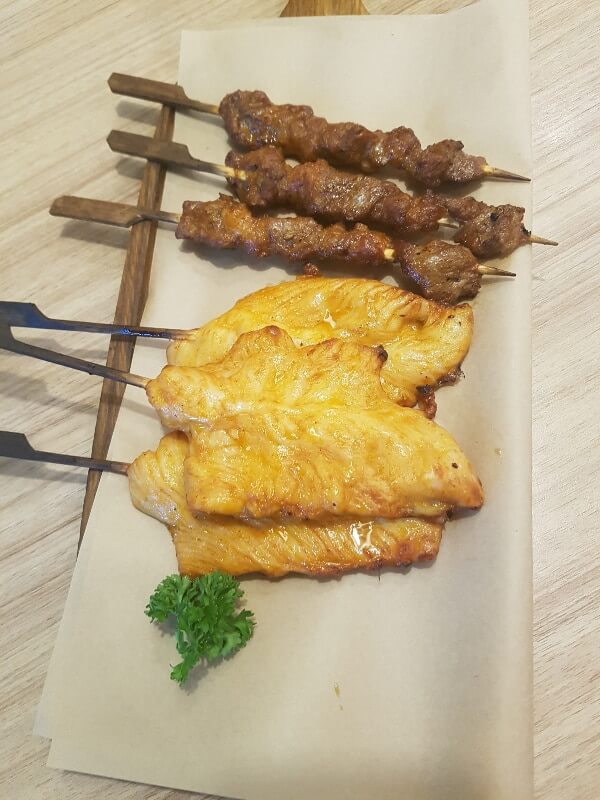 The specials were some sort of BBQ meat platter and a skillet pizza. The pizza had peas and tasted sweet! But the other pizza we got tasted just like pizza from home and it was perfect!
If you are still reading this, thank you. Thank you so much! It means a lot. Any questions, please ask me! I would love to answer them.