Day 31:
Thursday morning Keith and his friend went to Central Hong Kong. So I was by myself for a bit! I got up, got ready and headed to town (Yung shue Wan). Here I got some fresh watermelon juice, a baked good and a pretzel for food. The baked good was like a muffin and it had walnuts and raisins in it and it was so good! I explored the town and found some cool clothing shops. There was also a little shop that sold handmade figures and animals which I ended up getting some as gifts.
I tried some pork chops and spaghetti at this little shop before heading to the ferry. The spaghetti was just noodles and the pork had some sort of sweet garlic sauce on it. It wasn't amazing but it was pretty good and the owner was very nice.
Then I got on the ferry to head to meet up with my brother and his friend. The water was pretty choppy, but I never get seasick so I found it fun.
Mong Kok
Once we met up in Central, we walked around and took the subway to Mong Kok to explore the markets and get some food. We had hot pot at a little restaurant which was pretty good. I got a waffle at the ferry terminal while we waited for the ferry back to Yung Shue Wan. It had peanut butter and sweet milk on it, so good! I also had a wild berry cider which I really liked.
On the ferry, we met up with three Filipinos that worked with Keith's friend. They were all super nice and we got along really well. When we got back to Lamma Island, we decided to hang out on the beach for a bit. We ended up making plans to have a party and make food for my birthday. They would make a Filipino dish and I would make quesadillas.
Day 32: Beachin'
Friday we got some baked items and relaxed in the morning. In the afternoon, I went down to the beach. I found lots of pretty shells as the waves were constantly washing up new ones! I had to be quick because sometimes I would see a shell and before I could grab it a wave would come and wash it away. The pull of the ocean was very strong but the water was very warm. The sun was nice and I soaked it all in.
We ate at a little restaurant before catching the ferry to Central. We got dumplings and beef and rice. It was delicious! Some of the best rice I ever had.
In Central, we walked around the night market, ate some spring rolls, and walked around.
Day 33
Saturday we checked out of our hotel and checked into the AirB&B we would be staying at. We did some laundry and relaxed. Then in the afternoon, we went to Best Kebab Burger and Pizza for some food. We got some stuffed mushrooms and a kebab burger. The burger had Middle East flavours and it came with a vinaigrette salad and fries. Then we went to the staff party that our friend and her co workers were at. We met some cool people, ate some grilled food, and had a bonfire on the beach.
Sunday Day 34: Hiking on Lamma Island
Sunday, we hiked to the windmill that is on the island. It was really cool to see it. It was the first commercial-scale wind turbine built in Hong Kong. From the windmill you could see across to Aberdeen and the city. After, we walked to Sok Kwu Wan. It is the name of the other big town on Lamma Island. It has a ferry terminal, lots of seafood restaurants and a fishing village.
The hike had some incredible views! For the most part we were climbing over mountains so we could see everything from above.
We walked back to Yung Shue Wan for supper. We ate at Blue Bird Restaurant. For about 25$ CAD each, we got 5 dishes to share and our own bowl of pork ramen. We got crab roe salad, pan fried veggies, grilled mackerel, grilled eel sushi, and a plate of assorted sushi. I loved all the food! It was so full of flavor and the sushi was really fresh and tasty.
Monday, Day 35: Ngong Ping 360/Lantau Island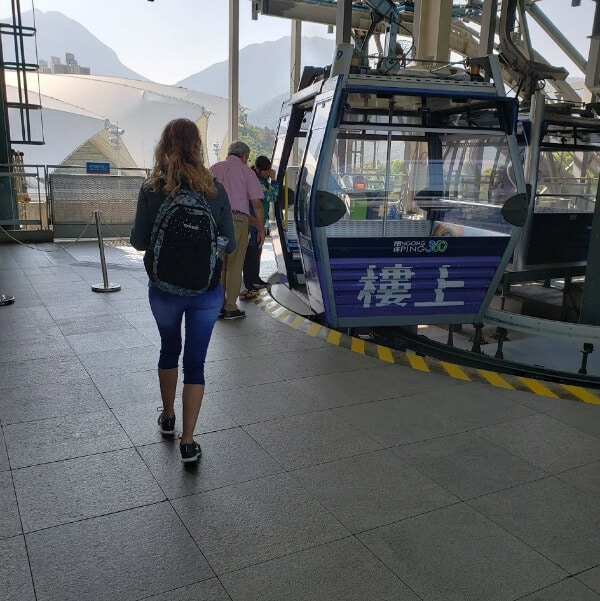 We took the 10:30 ferry into Central, Hong Kong. Next we took the subway to Ngong ping 360 and then took the cable car to Lantau Island, Hong Kong. I was really scared to ride the cable car because I am scared of heights and I hate ferris wheels. Turns out, it was only a bit scary! I actually liked it! We could see the airport and the city from the cable car which was pretty incredible. When we got to the island, there was lots to do!
There were lots of little shops to check out! There was the Big Buddha you could walk to, lots of hiking trails, plenty of restaurants, and a cute little tea shop. We hiked the Lantau Trail which had so many scenic spots. Then we ate lunch at Zen Noodle Cafe. I got beef teriyaki, rice, Japanese pickles, and miso soup. It all tasted amazing!
I wanted to go to a free tea demonstration but we didn't have enough time. So I bought some tea from the store anyway.
The sun was setting as we took the cable car back down the mountain and it was such a beautiful sight!
Day 36: My Birthday/Aberdeen
On my birthday we slept in a bit. Then we decided to catch the 12 o clock ferry to Aberdeen. We grabbed some items from the bakery as well as a piece of cake. My brother paid for my cake! Mine was chocolate but it tasted a bit funny. I think it was a "healthy " cake which is not the right way to eat cake!
When we got into Aberdeen we explored a little bit. We went into the grocery stores and a market and walked along the pier. There were so many boats and even a floating restaurant you could eat at! There were lots of of the Hong Kong national flowers growing and they are so pretty!
The stores were cool too as it was neat to see the items you could buy. We got some packaged oatmeal for breakfast and some French onion crackers to try. We also got some stuff to make quesadillas.
Around 5, we headed back to Lamma island. We went to a seafood restaurant for supper and ate at a table with a view of the water. While waiting for the food, we snacked on tea and peanuts. We both ordered seafood fried noodles and it was delicious! It was vermicelli noodles with some sort of sauce and veggies. The seafood was shrimp, fish and squid. Then we went back to our AirB&B and I ate some ice cream and pretzels and watched a movie.
Did you miss the last post? It's all about our last day in Nanchang and arriving in Hong Kong! You don't want to miss it!