"Wow you came to Cuba all by yourself? You're so brave!" If I had a dollar for every time I heard that on my trip to Cuba… well I'd have atleast 20$$ lol!
So in February of 2023, I wanted to try an all-inclusive and since I had no one to go with my travel agent recommended Cuba as a safe place for a solo female and I decided to try it. I read reviews on the Cuban resorts online and people seemed to complain about the food a lot. And in case you didn't know, I am a huge foodie! So that had me worried. But I booked the trip to Valentin El Patriarca anyways and hoped for the best.
Cuba was love at first sight for me, there is no other way to describe it. From the moment I touched down at the airport in Varadero, I knew I was going to have an amazing time. I would highly recommend Cuba for anyone traveling alone. Usually, when I travel I like to go to new places I've never been, but I think Cuba will have to be the exception as I already want to go back.
When you first land in Cuba, you get off the plane and walk through the airport towards customs/security. Here, you hand in the visa you received on the plane and your passport. They take a photo of you, ask a few questions, usually when you're coming back, etc. and then on through security! They also give you back the visa which you have to give them on the day you leave Cuba (so don't lose it haha!)
Outside, there were people standing around with shirts that said Sunwing, Air Transat etc. I went over to one of the men wearing a Air Transat shirt (my travel package was with Air Transat), and he told me the number of the bus that would take me to my resort. 
I waited for about 10-20 minutes for all the people to get on the bus. My resort was on the Varadero strip and the bus made stops at most of the resorts along there.
I got to the resort and was one of the lucky ones in that my room was all ready for me! The lady at the front desk was super friendly and helpful. She gave me the wi-fi password and a map of the resort. The bell boy was also super friendly and helpful. He loaded my luggage, gave me a tour of the resort, and then dropped me off at my room. He even made sure everything was good in my room before leaving. My room was almost directly across from the pool and about a five minute walk away from the beach or the lobby.
I hadn't eaten since 8pm the night before and it was now 12pm so I headed straight for the buffet. I tried some chicken, veggies, and bread. And then any guesses where I went? The beach of course! It looked like a post card and I was so happy to soak up the sun and dive into the salty ocean.
I got ready for dinner and watched the sunset while I was waiting for the dinner buffet to open. After dinner, I was so tired I went to sleep at 830! The day before flying to Cuba, my friend and I had been staying at Algonquin Provincial Park for a few nights. So after a quick nap on Wednesday evening, we left the cottage at 1am to be at the airport Thursday morning where she dropped me off for my 6am flight! So needless to say, I was pretty tired after being awake for almost 36 hours.
I woke up the next morning, ready to start the day. After breakfast, I stood in line to book an a la carte restaurant for that evening. I chatted with some ladies who were also in line. The Italian restaurant ended up being the only one available so I booked it for 6:30. Then I went to a meeting for Air Transat customers to hear about the excursions. But the guy was talking in Spanish and I was worried that I wouldn't be able to get any info about the excursions and stuff. Turns out I was in the wrong spot, so after the meeting, the Air Transat rep helped me book two excursions.
And then, I headed to the beach! I collected shells, napped, and swam in the ocean. For lunch, I went to the beach bar where I got pizza which was super good. There was only a plain cheese one and a veggie one so I tried both.
Before dinner, I went to grab a drink at the lobby bar. And the same ladies I had chatted with that morning were there also. We waited in line and talked about drinks. I tried a cool drink with different colors to it, it was called Ocean something.
When I got to the restaurant, I was led to a table where I sat down to browse the menu. Suddenly, one of the ladies I had been chatting with came over and asked if I wanted to join their group. I said yes and joined the four at the table. They introduced themselves as George and Sarah and their friends Kelly and Riette. Dinner was fun; we exchanged travel stories, drank wine, and tried the food. I got the caprese salad, ham and cheese lasagna, and for dessert something that was similar to tiramisu. I really liked it!
After dinner, my new found friends asked if I wanted to join them to play Euchre. We played a few games and listened to the violinist in the lobby.
I went to bed to get ready for my big day trip to Havana! (Blog post about that coming soon!)
The morning after Havana, I woke up and had breakfast. One of the gardeners gave me a flower as I was walking back to my room. Then I walked to the pool where the friends I had made the day before were hanging out and had saved me a chair! The day was spent relaxing, having a few drinks, and grabbing some snacks from the snack bar by the pool.
We met a few other couples, one being Jan and Dana. Jan was the sweetest friendliest lady! She ended up inviting me to go into Varadero the next evening with them and a few other couples.
Later, I went for a walk down to the beach to find out they had posted a no swimming sign on account of the waves being too high/danger of rip currents. I love waves so I was sad to not be able to swim in them but I watched them for a bit and walked in the water.
For supper, I ate with my friends Kelly, Sarah, George and Riette at the buffet. I had chicken and mashed potatoes and I tried what I call a "pizza crepe or omelette". It was batter that they fried into a thing crepe like thing and then inside they put a red sauce and your choice of toppings. Then they folded it in half, warmed it a few minutes and then served it to you.
The next morning, Kelly, Sarah, George and Riette and I decided to go into Varadero on the hop on hop off bus. You pay five dollars, and it goes all the way into Varadero and you can decide where to get off. And they give you a transfer that is good for the whole day. We had just left the resort when we heard the bus coming up the road. So I quickly ran to the end of the resort driveway so the bus would wait for us. People on the bus cheered for me as they saw me running and make it haha!
We did some shopping and haggling and exploring in Varadero. I got a bunch of gifts and souvenirs. Around 12pm or so we headed back as we started to get hungry. For lunch, they had a tray of razor clams in the buffet which were delicious! I also had some tasty rolls, chicken and a fresh salad with olives, tomatoes and cucumbers.
We went down to the pool for a bit till it was time for me to get ready to head into Varadero again with Jan and her group! We rode in a jeep which was super cool. We stopped at the Beatles Bar where we met up with another couple. We were hoping there would be music but that didn't start until 9pm, so we grabbed a drink (I tried sangria which was delicious).
Then we walked to Josone Park which was very pretty. There were a few restaurants and we ended up at La Gruta el Vino which is a restaurant in a cave! There was lobster, steak, chicken or pork. I tried the pork, but I wished I had got the lobster. Apparently it was very good, and the steak was a bit tough but tasty.
After supper, it started to get dark and we wandered around a bit more and then took a taxi back to the resort.
The next day was my trip to Trinidad, El Nicho and Cienfuegos. (Blog post also coming later!)
On the last day, I spent the morning at the beach. I left some gifts and exchanged money with the ladies cleaning my room. When I got back to my room they had made a heart and 2 swans forming a heart out of the towels and the extra blanket in my room. The afternoon I spent at the beach and packing up.
Once when I was headed to the beach, one of the gardeners stopped me and swiftly grabbed a coconut. He proceeded to chop it open and gouge a hole in the top. Then he handed it to me with a huge smile! For supper, I ate at the buffet where I met a couple who invited me to sit with them.
Other notes about my trip:
Some days they ran out of vodka, one day they ran out of beer and they were out of orange juice for most of my stay. Food was a hit or miss. For breakfast, I would go for the fresh made omelettes where you could pick your toppings. The bacon in the buffet always seemed a bit under cooked, but I saw lots of people bringing the bacon to the lady cooking the omelettes to fry it for them. There was usually fresh chicken or pork you could pick from and watch it get cooked in front of you.
There was always lots of juice and milk to chose from. The ice cream was delicious and there was always lots of different cakes. There was always fresh fruit, pineapple, guava, and my favourite, papaya. The bread or buns were super good, but whether there was butter was always a gamble. One night they had two whole chickens they had roasted and another night they had ribs. There were pancakes some mornings as well as a fresh waffle station. There was no syrup but they had little jam bottles. The buffet often had lentils, cabbage or ham.
There were three al la carte restaurants: Italian, Gourmet, and Caribbean. The Caribbean wasn't always available when I was there and I only got to try the Italian. But it sounds like they had similar food at all of them. There is a coffee shop on the resort but it wasn't open when I was there.
Mostly every night they had a show in the theatre. One night was a magic show, one night a variety show and one night there was a violinist in the lobby. The other nights I missed because I was on my excursions.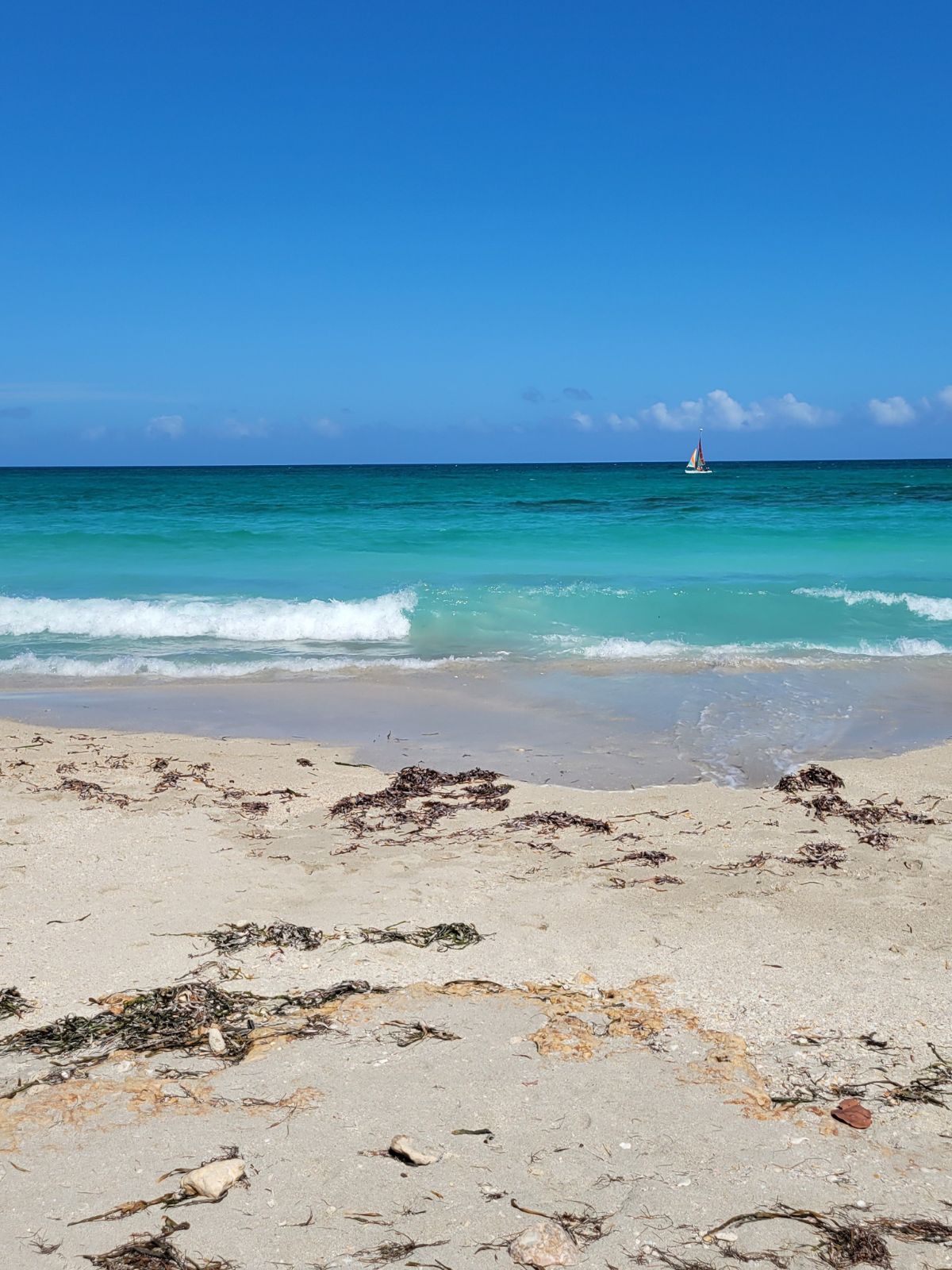 So many people asked me "Why are you traveling alone?" "So next time will you go with someone else?" "You couldn't find anyone to go with you?" I am not against traveling with someone or a group, but in all honestly, no one was available to go with me. And I didn't want to say "No" to travel just because I would have to go alone. So don't let that stop you from booking your trip. I can't imagine having not experienced Cuba just because I was too scared/didn't want to go alone!
I think solo travel is a great experience because it pushes you out of your comfort zone. If you are friendly, aware of your surroundings, and open to new experiences you can safely travel and make new friends as well as amazing memories!