The sky was still dark and the moon was still visible as I made my way to the lobby with my phone's flashlight to guide me. The air still had a bit of a chill to it but there was also the promise of adventure! Reaching the lobby, I discovered it was very quiet and no one else was there.
When I had booked the excursion, the Air Transat representative had said to be there around 620am and that sometimes the bus was early or late. As I was walking towards the entrance at 6am I thought I heard a bus but I decided surely that was TOO early for my bus! But when it was 610, 625, and then 630 with no bus I got a bit worried that maybe I HAD missed the bus. But then at 633, a bus pulled into the entrance. Thank goodness!
I hopped on the bus and we took off. In almost less than a minute, the sky changed from black to pastel pinks and blues. We made a few stops at other resorts to pick up other guests doing the same excursion. By the end of all our stops there was 7 tourists on the bus (3 couples and me) plus the bus driver and our tour guide.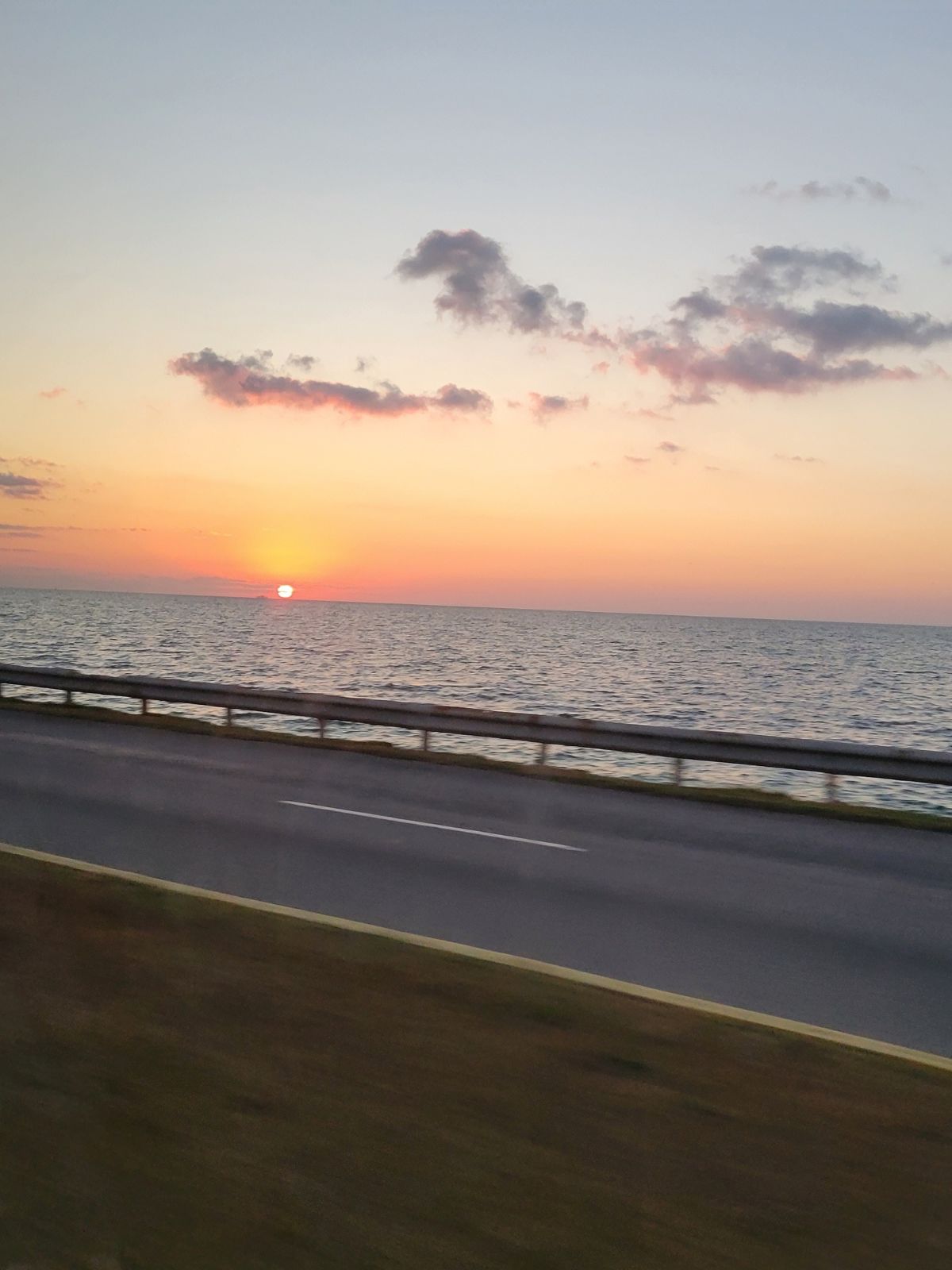 As we drove through Santa Marta, we passed children wearing uniforms walking to school. We watched as the sun rose like a ball of red fire above the Caribbean Sea to the left of us. On my trip to Havana I had been so nervous, but now I knew a bit more of what to expect so I felt way more confident on this trip. We stopped to pick up another bus driver since it would be a long day of driving and then we left the city and turned onto a Cuban highway.
We passed the army barracks where the tour guide explained that after high school, university is free for anyone. And if a male decides to go to university he must serve one year in the military and then go to university. But if he doesn't want to go to university, he must serve two years in the army. Females are allowed to join the military but it is not enforced.
Our tour guide spoke Spanish, English and French. One of the couples on the bus was French, so he often had to repeat himself, first in English and then again in French.
We passed sugar cane fields, small towns and villages, little farms with cows and many homes. We learned that sugar cane can't grow near the ocean because of the salt in the soil. We also passed fields being burned to clear the way for crops.
The air was still cool when we stopped at what seemed like a hobby farm with peacocks, rabbits, chickens and a rooster. We had a meat and cheese sandwich and a fruit smoothie at the restaurant here while listening to a band play Cuban music.
After eating, I wandered the grounds and came across 2 cool old cars. One of the bus drivers came over and was trying to explain something to me. Unfortunately, he didn't speak English and I didn't speak Spanish. But he was very nice and took my picture in front of the car and with one of the peacocks that wandered by us. When the tour guide came out, I asked him to translate what the bus driver had been saying. Turns out, he had some interesting facts about the cars! And being a car girl, this was super cool to me!
Then, we all got back on the bus and headed in the direction of Trinidad. We passed through Cienfuegos (where we would stop for supper later) driving along many winding roads with the mountains in the distance. We saw pine trees and so many little houses. I loved this part of the tour because it was interesting to see the many different parts of Cuba. Obviously, life is so different than it is for us on the resorts! We made one stop where we could see the view of Cuba from above.
Our first big stop was El Nicho, where we arrived around lunch time. Here, there was some miscommunication and I didn't realize this was where we would hike and then swim in the waterfall. We were just about to start walking on the path, when I thought to ask our tour guide if I should change into my swim suit. Turns out, if I hadn't thought to ask, I either would have had to get changed in the bushes or miss out on swimming. The guide was super nice and waited for me to get changed and I think he was surprised when I was ready in less than a minute!
After we'd walked a bit, we came to the restaurant where we would eat lunch. Our tour guide went to let them know we had arrived and would be back after our hike. Then we started out on the hike to get to the top of the waterfall. We climbed some steep stone steps on the way up, passing a look out and the base of one of the waterfalls. We also passed a mountain pool which our guide told us was called "Lover's Pool". The water was so clear and a bright blue, it was a stunning sight!
Continuing our trek, we got to smell lemon and anise plants as well as walk across narrow beams of wood crossing over little streams and ditches. When we got to the top, there was a waterfall and mountain spring waiting for us in all it's glory! The water was cold and refreshing and there was even a spot to swim under the waterfall. I cut my knee trying to climb the slippery rocks to stand under the highest waterfall, but it was all worth it. Feeling the water running over you, drowning out all other sounds, is a pretty incredible feeling.
Lunch was pork, tomatoes, rice and beans, and cassava, with a soup to start. The cassava wasn't my favourite but the pork was delicious!
When we got back on the bus, the bus drivers had a little red flower for all the ladies since it was Valentines Day. I tried to stay awake on the way to Trinidad as I wanted to see as much of Cuba as I could. However, getting up at 5am had caught up with me and so I napped some of the way. I did happen to be awake to witness a goat running across the road!
Trinidad was very cool as it is a Unesco World Heritage site. It had cool old churches, colorful buildings, cobblestone streets, and many restaurants. We also saw lots of houses that people were renting out to tourists. Some were done through the government (so they would take a percentage of their earnings) and some are done privately. There were men with horses and carriages offering people rides around the city. We spent about 2 hours here and then headed back to Cienfuegos where we would have supper.
In Cienfuegos, it had already started to get dark when we made a stop at the town square. Here, two young boys approached me, one of them starting talking to me, showing me how he was learning to speak English. I gave him one of the snacks I had it my bag and he was super excited.
After spending a few minutes here, we got back on the bus and headed to the restaurant where we would eat supper. The destination was Palacio de Valle, a super fancy hotel with a restaurant on the main floor. The ceilings were very high and the design was very intricate.
We had the choice between fish, chicken or pork that all came with cassava and rice. I chose fish and was very happy with my choice as it was delicious and a nice change from all the pork I had eaten on the last bus tour to Havana. There was also bread, a pineapple drink, and a custard like dessert. As we walked out of the restaurant after the meal, we saw a couple get engaged!
It was almost midnight by the time we arrived back at my resort and I was exhausted, but my heart was full and my soul was alive. It had been an adventure filled day, one I'll not easily forget!