Homemade donair sauce is actually so easy to make! Sure you can go out and buy a bottle. But it never hurts to know how to make something yourself, and when it's this easy, that's just a bonus. Or if you happen to live somewhere that you can't buy donair sauce, then this recipe is for you!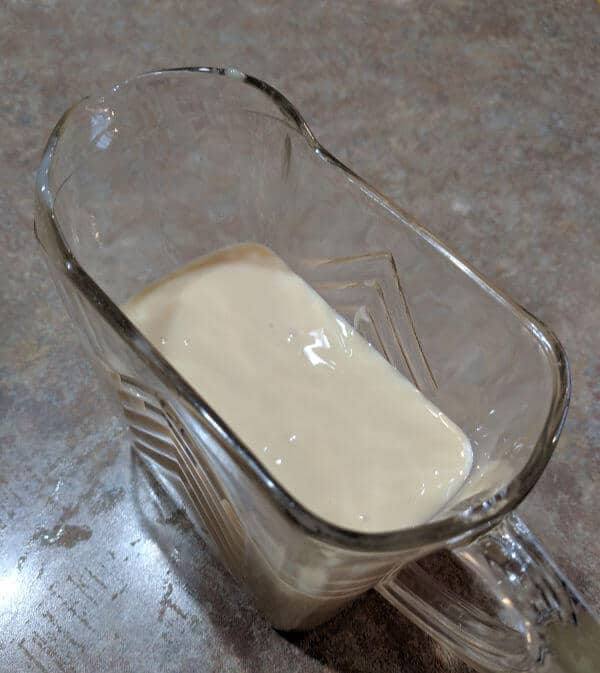 Homemade Donair Sauce
I love donairs and the sauce is so good. I even love dipping my pizza or garlic fingers in it. So next time you make homemade pizza, whip out this recipe and try it! Guarantee you'll love it. And if you don't, let me know. And if you do, let me know. Either way I'd love to hear from you!
What is Homemade Donair Sauce made of?
Homemade donair sauce is a thick sweet sauce with just garlic powder, sweetened condensed milk and vinegar. It's so good, you will love it! Check out What is a Donair and How to Make One!
I don't have sweetened condensed milk, are there any substitutes?
I get it, you found this recipe and you want to make donairs for dinner. You've just opened your cupboard and much to your dismay, discovered you have no sweetened condensed milk for the sauce. Now what? You can either sit on the floor and cry, OR if you have a can of evaporated milk, jump for joy! Now all you need is 2/3 cup of evaporated milk, 2/3 cup of sugar, 1/4 cup of vinegar and garlic powder. Problem solved!
How long does Homemade Donair sauce last in the refrigerator?
It last a very long time! But it's an easy thing to make big batches of and freeze until the next time you are craving donairs. It stays good frozen for a few months.
How do I use Homemade Donair sauce?
The appropriate way to use donair sauce is to put large amounts on your donair so the sauce is dripping everywhere. However, if you were to make donair pizza, that is a good use of the sauce as well.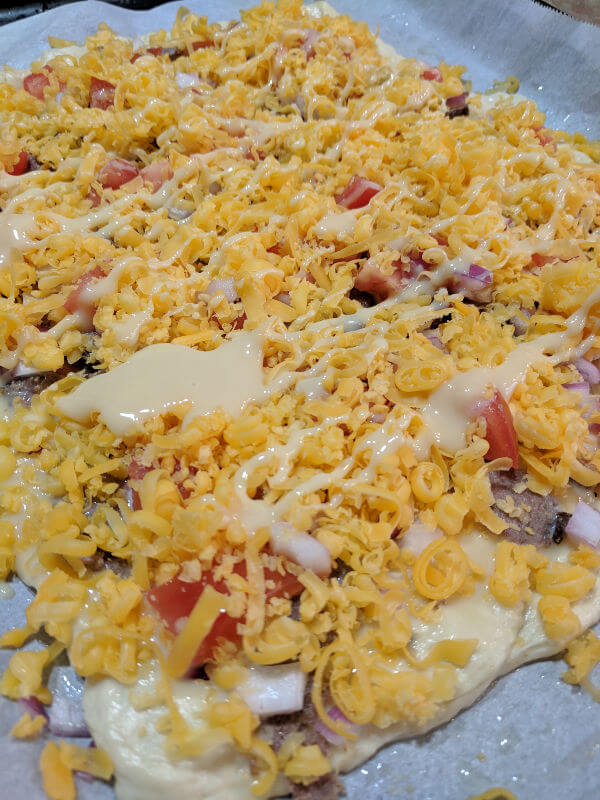 How do I make Donair pizza?
First spread as much or little sauce as you want on your pizza crust. I recommend a large amount 😉 Next sprinkle a little mozzarella cheese on top. Then add your slices of donair meat and chopped tomatoes and onions. Add lots more cheese on top. I used cheddar because we didn't have any mozzarella, but I recommend a mix of both cheddar and mozzarella. Lastly, drizzle a little more sauce on top. Bake in the oven at whatever temperature/time you would normally bake your pizza. Right before serving drizzle again with cold donair sauce. Can't beat this delicious taste!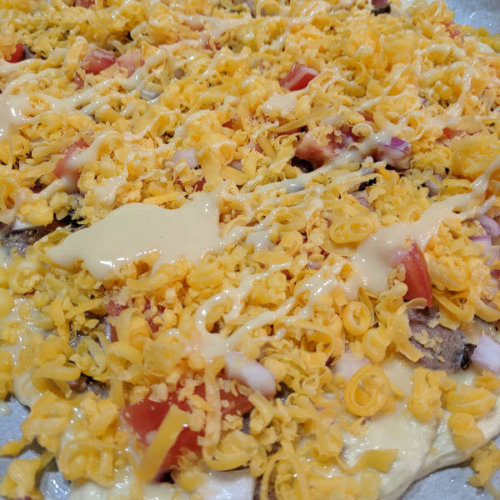 Print
Homemade Donair Sauce
Delicious donair sauce for your donair or donair pizza!
Ingredients
14

oz

can sweetened condensed milk

1/3

cup

vinegar

1

teaspoon

garlic powder
Instructions
Whisk together milk and vinegar.

Add garlic powder. Feel free to add more or less, according to taste.

Refrigerate for an hour before using.
Nutrition
Calories:
217
kcal
|
Carbohydrates:
36
g
|
Protein:
5
g
|
Fat:
6
g
|
Saturated Fat:
4
g
|
Polyunsaturated Fat:
0.2
g
|
Monounsaturated Fat:
2
g
|
Cholesterol:
22
mg
|
Sodium:
85
mg
|
Potassium:
252
mg
|
Fiber:
0.05
g
|
Sugar:
36
g
|
Vitamin A:
177
IU
|
Vitamin C:
2
mg
|
Calcium:
189
mg
|
Iron:
0.2
mg