Air fryer sausages are so easy to make and they are so tasty it isn't even right. They take less than 15 minutes to cook and they are crispy on the outside and soft on the inside. They are great if you're making a extravagant side dish and don't want to spend all your time on the meat part of the meal. And they are even better if you want a quick dinner option!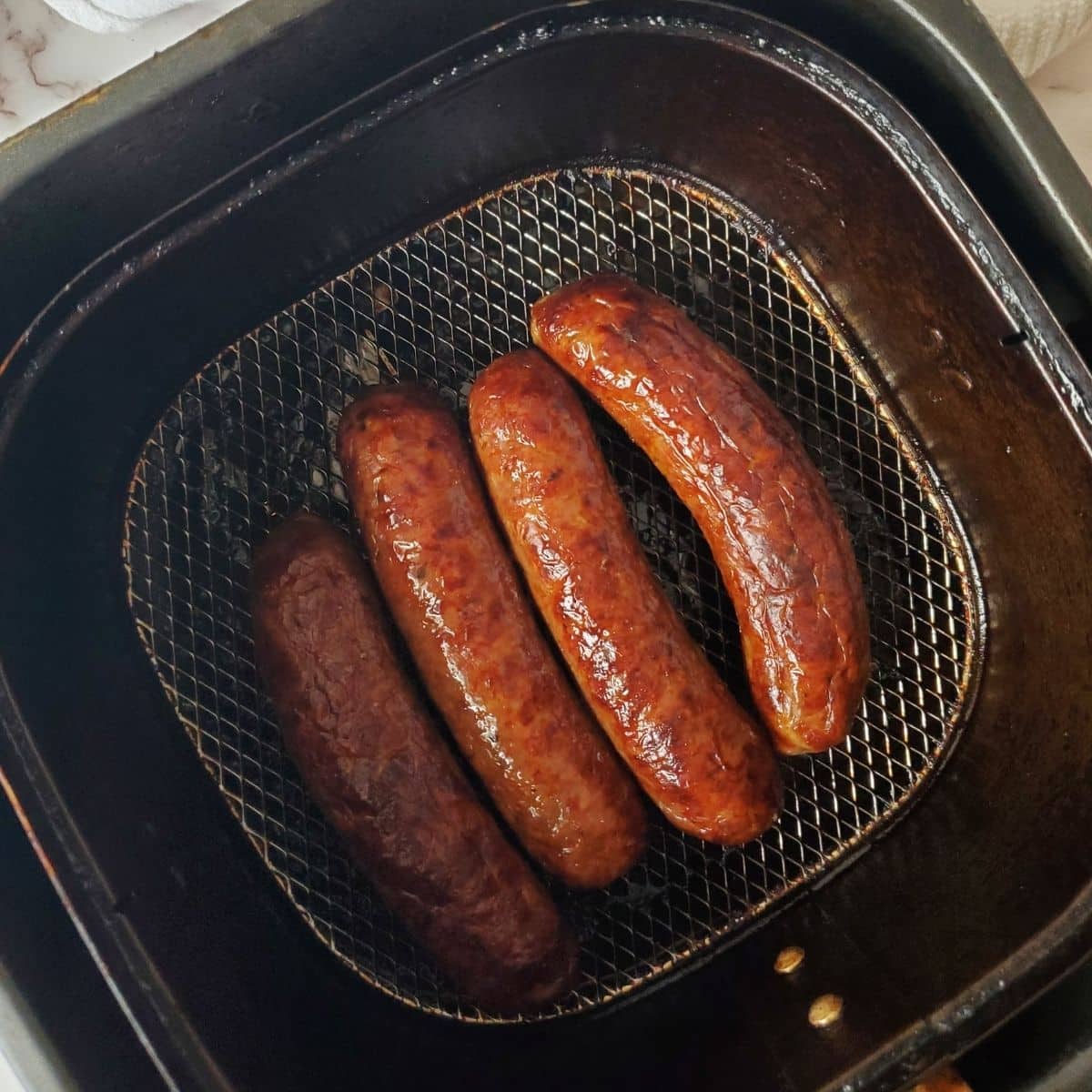 You should be cooking your sausages in the air fryer! And here's why:
Less mess – no grease splatters when frying!
No babysitting them while they cook – simply pop in the air fryer and you have time for other things!
Super fast and easy!
So delicious!
Crispy on the outside and soft on the inside!
What can I serve with Air Fryer Sausages?
These sausages made in the air fryer go great in so many ways!
Try them with mashed potatoes and gravy as a take on the UK dish
Italian sausage and peppers with rice (simply cook your rice and fry some peppers!)
Eat them in a bun with sauerkraut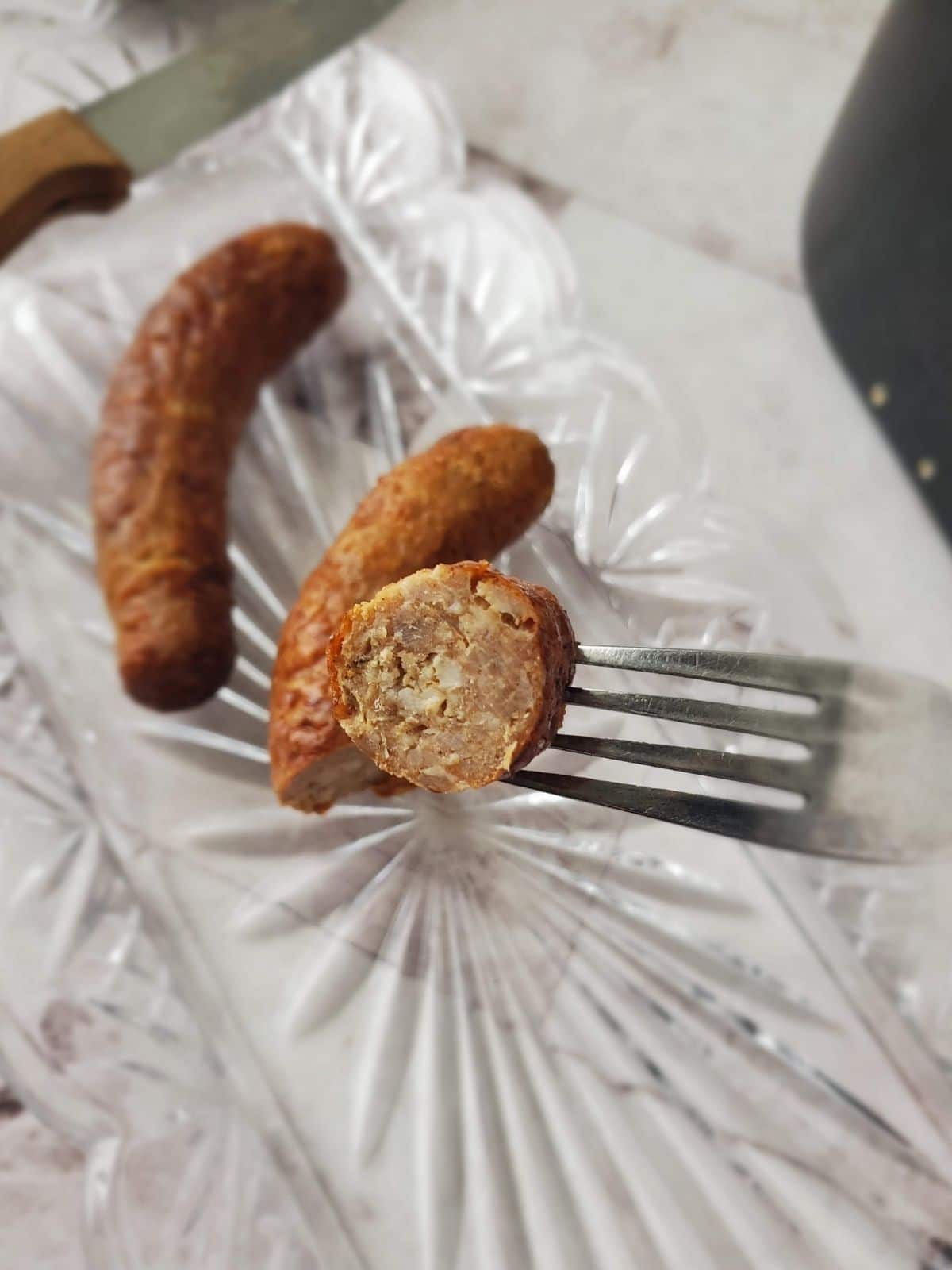 How long do I cook sausages in the air fryer?
Sausages in the air fryer take about 10-13 minutes. See question below if you are wanting to cook them from frozen. Always make sure the internal temperature is 160 degrees F to ensure they are properly cooked!
Can you air fry sausages from frozen?
Yes, you can easily cook your frozen sausages in the air fryer! Simply, cook them for about 10 minutes at 350 degrees and then increase the temperature to 400 for another 8-10 minutes.
Do I have to use Italian sausage?
You can use whatever flavour of sausages you wish! Honey garlic, spicy, or another favourite of yours!
How to Make Sausages in the Air Fryer:
It's so easy to make air fryer sausages! Simply lay your sausages flat in the air fryer basket.
Cook at 375 degrees F for 10-13 minutes or until internal temperature reaches 160 degrees.
If you're wanting to cook sausage links, breakfast sausage or any kind of sausage you can use your air fryer for those too! Keep in mind, the breakfast sausage links are thinner than your Italian sausage and will cook way faster.
What to do with leftovers:
With leftover air fryer sausages, you can keep them in the fridge for 3-4 days. OR, pop them in your freezer in a ziplock bag and simply reheat when you want to serve again! (They reheat nicely in the air fryer too!)
You can try Italian Peasant Soup Recipe if you have any leftover sausage!
Print
Air Fryer Sausages
Making air fryer sausages is so simple and quick! Ready in under 15 minutes, this recipe is perfect for a quick meat option for dinner. Juicy on the inside with a crispy skin on the outside!
Instructions
Lay the sausages in a single layer in the air fryer basket.

Turn your air fryer to 375 degrees F.

Cook for 10-13 minutes or until internal temperature is 160 degrees.
Nutrition
Calories:
286
kcal
|
Carbohydrates:
3.5
g
|
Protein:
15.9
g
|
Fat:
22.7
g
|
Saturated Fat:
7.9
g
|
Cholesterol:
47
mg
|
Sodium:
900
mg
|
Potassium:
252
mg
|
Fiber:
0.1
g
|
Sugar:
0.7
g
|
Calcium:
17
mg
|
Iron:
1
mg