Looking to plan the perfect 7 day Southern California Itinerary? You can follow along on my adventures and see the best places to go, tips along the way, and some of the good spots to eat. La, Santa Barbara and Santa Cruz island are among some of the places. It also includes ice cream and pizza! What are you waiting for?
In October 2019, my sister and I took a trip to Southern California! Our main reason to go to California was to visit family there and to see the Jonas Brothers in concert. We were also super excited to swim in the Pacific Ocean, eat good food, see palm trees and see the sights.
Share this post with a friend or pin it to plan later!
Southern California Itinerary: Day 1, Manhattan Beach
We arrived in LAX on a Tuesday at 1030am. We picked a morning flight so it would give us more time that day. About an hour later, we had got our luggage and were getting into our first ever Uber! I admit I was a little nervous about using Uber, but it's so convenient and easy. As with everything you just have to be careful and aware but I highly recommend using it!
We got to our cousins place where we were spending two nights. Here we changed outfits, grabbed our swim suits and took an Uber to Manhattan Beach. Our Uber dropped us off at the top of the hill of Manhattan Beach Blvd. Both sides of the street were lined with restaurants and little shops.
We stopped in at Simmzys for a quick bite to eat. We each got a taco and shared some sweet potato fries. I got the pork shoulder carnitas and it was full of flavor! The tacos are great idea and a really good price. You could easily try 4 different tacos for under 20$!
For delicious seafood options try Fishing with Dynamite or Try Manhattan Beach Post for vegan and vegetarian options with a great atmosphere.
Then we continued walking down the hill toward the ocean. Our first look at the Pacific ocean didn't disappoint! It was breathtaking as we could see mountains in the distance on either side and the waves continuously crashed on the shore. I am definitely an ocean girl and seeing the ocean always brings me happiness and a feeling of belonging. This time was no different.
We spent some time laying on the beach and then I took a dive into the waves. It was so refreshing and the waves were huge and strong. We took a walk to the aquarium at the end of the pier. It is free or by donation with only a few exhibits but its something cool and we saw some fun sea creatures! We ended our trip to Manhattan Beach with a stop at Shellback Tavern. Mu sister and I each had a shot and a LA bacon wrapped hot dog.
After taking an uber back to our cousin's place, we got take out from Alejos. It is an Italian place with great food, perfect to go out to eat but if you're looking for a cozy night in, it's also a great idea! We spent the evening sipping wine on the patio, eating good pizza and salad, and talking with family.
We also got some cupcakes from Sprinkles Cupcakes! So good. And we picked an orange off our cousin's tree just for fun.
It was only the first day in lovely Southern California and already I was dreading the day we would have to leave!
Southern California Itinerary: Venice Beach and Santa Monia (Day 2)
Wednesday was a very busy full day! By 10 am we were at the Jamaican bay Inn for breakfast. It's this very pretty hotel right by the Mariana with a restaurant open to the public. Our server was very friendly and helpful and the food was amazing.
I got crab cakes Benedict: 2 crab cakes fresh and delicious, with a poached egg on each, topped with a blood orange hollandaise sauce, all served on a bed of baby arugula. There was also asparagus on the side, a nice addition.
After eating every last bite of our food, we walked over to Washington street near Venice beach. Here we found a place to rent bikes. Venice Bike and Skate had a great deal for 24$ for the whole day for a bike. So we hopped on some bikes and rode the short way to Santa Monica Peir. It is about 25 or 30 minutes ride depending on how fast you are going.
When we got there we walked around taking everything in. All along the pier there are performers, artists and booths with souvenirs. There was a guy making balloon creations which was cool. At the end of the day we stopped and I got a little orange fish. There was lots of different kinds of people.
We got something cool to eat, Dippin' dots for me and a ice slush for my sister. Then we thought about the rides. I knew I wanted to ride something that had a good view but I hate rides and heights. I cry on the ferris wheel (no joke!) so it ruled that out. The roller coaster seemed like my best bet as it was pretty kiddy, however it took me a bit of time to win my inward battle and convince myself to do it. It was fun though and I'm glad I did it, a cool feeling to be up above Santa Monica taking it all in.
Our bikes had to be returned at 7 so we decided to spend the last little bit of time we had checking out the shops at Santa Monica place. Here we shopped at Nordstrom (on my bucket list) and Bloomingdales (huge Friends fans here!). We each got a cute top for a discounted price, win-win! Third street Promenade and main street would have been cool to check out, but we wanted to grab something to eat before heading back to drop the bikes off.
There are so many good places to eat around Santa Monica. If you want more healthy vegan options try True Food Kitchen or Flower Child. North Italia for those fellow pizza fans and Elephante has a great view!
We decided on The Cheesecake Factory because we had always heard it was good and never tried it. We each got a drink and some apps to share. I tried the passion fruit martini and loved it! Crab and artichoke dip as well as the egg roll sampler plate was the choice of delights. We got back in time to return the bikes and took an Uber back to our cousins. We went to bed somewhat early as we were pretty tired after our full day.

Tip: Plan to spend a whole day in Venice/Santa Monica! There is so much to do and see and you don't want to be stressing about time. You want to be able to see as much as you can.
Southern California Itinerary Day 3: Downtown LA
Thursday my sister and I got up and headed out around 10, stopping at Randy's donuts for breakfast. There was a line when we got there but dont let that discourage you. It moves pretty fast and it is so worth the wait! I tried the matcha tea (raised), so delicious. Then we took an Uber to downtown LA.
It was a difference scene then the other places we had been so far. Lots of business and tons of people, so many cars and offices. Our main stop here in downtown was to check out the pop up Jonas Brothers store in the Grammy Museum Live. Here we each got a T-shirt for the concert.
The Korean Air building as well as SkySpace provide amazing views of the city from above. Skyspace also has a slide but I was too scared to try it. Looking at where we are not, with not being able to travel, I'm thinking back. Thought for today: always say yes to new opportunities when traveling because you never know if you will get a chance like it again!
We decided to try Mexican food at Rosa Mexicano. I got a strawberry margarita, Sopa de tortilla which was a tomato Chile broth with chicken, avocado, cheese and tortilla strips. Everything else was in the bowl when they brought it to you and they poured the tomato broth over top.
For the main, I got street tacos. Grilled skirt steak, tequila marinated with rajas, bacon and chihuahua cheese. The guacamole we got with the tortilla chips was very tasty!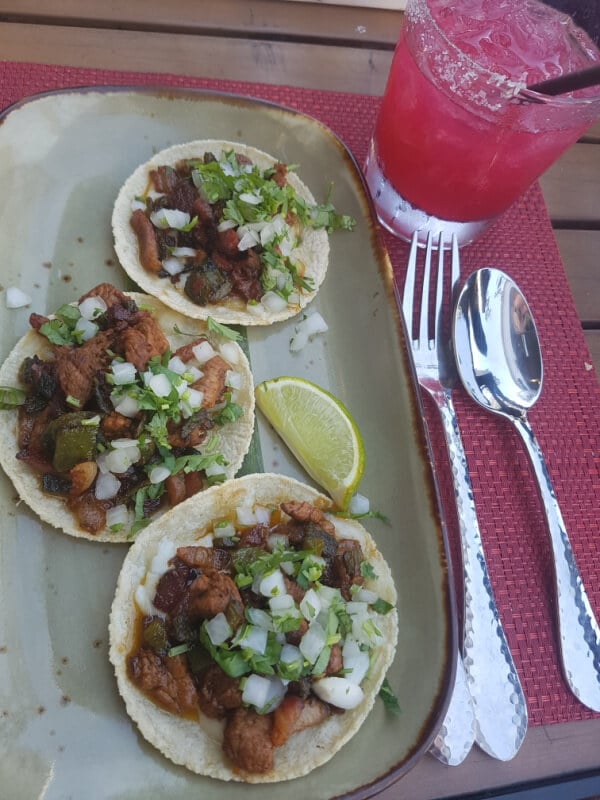 Once we finished eating, we took an Uber back to our cousins place. From there our aunt picked us up and we drove to Thousand Oaks. We passed through Malibu and then entered the canyons and the Santa Monica mountains. The views were breathtaking! It was too hard to take photos and we couldn't stop because there was lots of traffic and someone was riding our bumper. But the pictures probably wouldn't have done it justice.
Once we got to Thousand Oaks we stopped at the grocery store and got some food for the trip we had planned for Friday. Then we got to our aunts house and got ready to go out to dinner. We all ate at Buca di Beppo which was a cool Italian restaurant. We got baked ziti, a delicious salad and chicken marsala. I was not a huge fan of the marsala but I loved the ziti!
Southern California Itinerary Day 4: Santa Cruz Island
Friday, we got up super early and drove to Ventura with our aunt and uncle. The sun was just rising as we arrived at the marina. We were taking a boat cruise to east Santa Cruz island with Island Packers. The air was a bit cool but we were in jeans and sweaters. Once we reached open water, and started to go faster I was loving my life!
We were riding against the swell which means we went over the waves. The boat dipped and went up and down and everytime there was a big wave, I got butterflies. It felt like I was on a roller coaster when it was dropping. It was so much fun! I didn't get seasick which I was glad about! We saw sea lions on a buoy and a few dolphins out in the open water.
It took us a little over an hour to reach the island. By then, the air had warmed considerably. We walked off the boat onto land and took it all in. Huge cliffs towered on the edge of the island on either side of the inlet. Rocks lined the shore and beside that was an open area where kyayks and snorkelers could enter the water.
There was a guide, an elderly lady, leading a hike up to the top of Cavern Point. After quickly changing into shorts at the restrooms set up on the island, we followed along. I couldn't get over how beautiful it was that I had to keep stopping to take it all in. Once we reached the top it was no different. The ocean was so blue and vast with the occasional ship in the distance. Planes flew overhead and it is definitely one of the prettiest spots I have ever seen.
From then our tour guide left and we continued to hike to potato outlook. It was a long hike but every step of the way you were surrounded by stunning views which made it totally worth it. Once we reached the outlook it was breathtaking, the water so clear and blue. Occasional sea lions cries could be heard.
We ate a snack and then headed back down the trail to the bottom of the mountains. We stopped to eat lunch right before we got to the end. At the end of the trail we took naps while waiting for the boat. The boat ride back was different because we riding with the swells. There was lots of spray on the sides of the boat.
We had booked a hotel in Santa Barbara that night. On our way, we stopped in Ojai for some pizza at Ojai Pizza Company. We ate some delicious BBQ chicken salad and vegetarian pizza. I was so tired after that I fell asleep on the way to the hotel. We checked in and my sister and I got our own room. We took showers and I immediately passed out.
Day 5 of Southern California Itinerary: Santa Barbara
Saturday, day 5 of our Southern California Itinerary, we got up around 8 and had some breakfast at the hotel. The bagel I had was the best one I'd ever eaten! Then all four of us hopped on bikes the hotel provided and biked along the coast. We found a bird sanctuary which was pretty cool. There was a cruise ship in that day so the boardwalk was crowded with lots of people.
At 11 we checked out of the hotel and returned the bikes. Then we walked back down to the marina. We walked up to the lookout which offered a good view.
We started to feel a little hungry so we got some lunch at Brophy Bros. I tried the sea bass and clam chowder, both delicious. We also got a hot plate of mixed seafood to share: mussels, clams, shrimp, stuffed clams, and rockefeller oysters.
After lunch we walked over to get ice cream. I got mocha chip which was delicious. There was a ukelele group practicing in this little patch of grass and we ate our ice cream and listened to the music. After that we went down to the beach where my aunt and I played in the waves. Then we all relaxed on the beach until sunset.
The palm trees were so beautiful in Santa Barbara and it was one of my favourite beaches in California!
We drove to Margaritaville in Ventura county and had some guacamole and chips and tequila at this Mexican restaurant. It was a fun evening with our aunt and uncle that we all still talk about!
Southern California Itinerary (Day 6): Hitting all the Spots
Sunday we slept in which was nice. Then we drove to get breakfast at the Flying Yolk in Simi Valley. I got a breakfast bowl : eggs with cheese, bacon, tater tots, a slice of bread and guacamole on the side. It was delicious! They also have freshly squeezed orange juice that is yum.
Then we drove back to LA through the canyons and along the coast. We stopped in at Pepperdine university a very prestigious school. The grounds were huge and we just drove through them. We stopped in Malibu and walked on the pier. Here I got an ice cream sandwich made with cookies, so good.
We got back to LA early evening where we said goodbye to our aunt and uncle. For supper, we ate with our cousin and his wife at Playa provisions. We got octopus and calamari as apps and both were amazing. I got a pasta clam dish with carrot juice. For dessert we had something fancy. The lighting wasn't good in the place at all so I couldn't get any pictures. But the food was amazing!
We had booked a hotel for Sunday night and Monday night right near the airport as we were flying home Tuesday.
Southern California Itinerary (Day 7): Hollywood
Monday we got up and had breakfast and mimosas by the pool. It was very relaxing and the quinoa bowl I tried was delicious. We sat in the hot tub for a bit and also sat in the sun.
Around 12, we took an Uber to Beverly hills where we met our cousin for lunch. I got French onion soup and a chicken mushroom sandwich. After lunch we took another Uber to sunset Blvd where we hopped on a bus tour at Hollywood City Tours! It was a very good deal and our bus driver was super nice and knowledgeable.
The tour took us through Hollywood Hills and Beverly Hills and we got to see quite a few celebrities houses. Some you just drove by and could only see the gate but it was still cool! We also drove down rodeo drive which was lined with the fanciest most expensive shops, some only in LA.
After the tour we did a little browsing on Hollywood Blvd and saw some of the stars on the walk of fame.
Then we headed to the Hollywood bowl for the Jonas Brothers concert! They had two opening acts Jordon McGraw and Bebe Rexon. They were pretty good but the Jonas Brothers were amazing.
There were fireworks at different parts and confetti at the end. They sang most of their new songs as well as a lot of their older ones. After the concert it was 11, and we waited for the Ubers to slow down (prices are higher when its busy!) We got some In n' Out burger. I wasn't feeling the greatest as I was tired and over hungry. But it was good!
Tuesday: Last Day in California
Our flight left in the evening so we spent the morning at the hotel pool and in the afternoon we checked out Hermosa Beach. We ate some lunch at one of the restaurants there and took naps on the beach. We also took some photos and wandered around the shops.
After taking a Uber to Manhattan Beach we got some snacks. I got an ice cream sandwich from Manhattan Beach Creamery! They make their own ice cream and cookies and it was perfect to eat mine as we watched the sunset.
On the way back to our hotel we grabbed some last tacos at Simmzys.
California is easily one of my favourite places and I hope I get to go back again someday! Start planning your Southern California Itinerary today! It's definitely something you won't regret.
Want to see more of my travels? Did you know I visited China? Check out my adventures in Nanchang. My brother and I ordered a whole fish at a restaurant and got to see a fountain and light show!