First day in Nanchang: Day 16 in China
Wednesday we went to a place called Mr. Waffle for breakfast. I tried a caramel waffle for 9 RMB. It was small but delicious! We also went next door to a juice place and I got a passionfruit drink. I was surprised when it had seeds in it, and even though it was a bit tart it was good! Our house keepers are super nice and friendly at the hotel which is nice.
Then Keith headed off to teach and I was starting to feel like I was coming down with something so I rested in the afternoon. When Keith got back we did some exploring. We went to the grocery store which was a few minutes away from our hotel. That was a cool experience! Seeing all the fresh meat and seafood and all the selection of fruits and veggies, made me want to cook a meal! But unfortunately staying in a hotel means no can do!
There was also lots of different things at the store. Lots of dried fish and other sea creatures. There was fresh squid and live shrimp you could pick for your dinner! We got some fruit and some bread and some Ramen noodle kits. When we got back to the hotel we made our Ramen using the kettle and just hung out and watched shows. It was a good way to spend the evening as I wasn't feeling the greatest.
Day 17 in Nanchang: Autumn Water Square (Qiushui Square)
Thursday morning I still wasn't feeling well. We had fruit and bread for breakfast and when Keith went to teach I just rested. I also got to talk to my dad for the first time since being gone.
For supper we went to a restaurant and ordered another whole fish, rice, and noodles. We never got the rice but the noodles were good. They seemed very oily. The fish didn't seem as big as the ones we had tried before but it was cheaper and it was still tasty. We also stopped at tried this dessert, it was some sort of bread like creation filled with some sort of custard!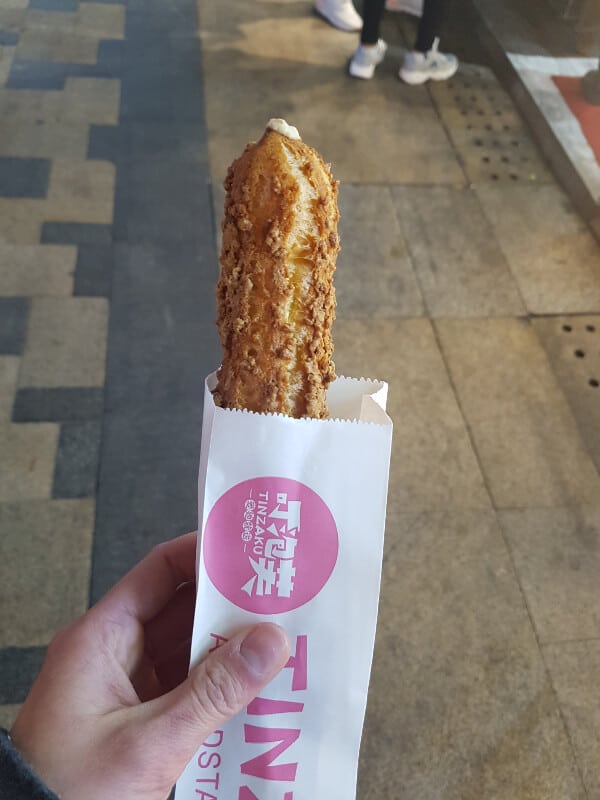 After eating, we walked to Qiushui Square to see the Autumn Water Fountains. Along the way we passed so many buildings, some of them very tall, all lit up with colors and lights. I could barely take it all in! There was a little pathway lined with trees and the trees had colorful decorations like bright stars and lights and hearts. It looked like a magical land.
When we got to the water fountains, music was playing and the fountains were changing colors and there was effects. There were buildings far across the river that had animation scenes playing out on screens (flowers, dolls dancing!) It was such an incredible put together show, I felt like I was in a dream. I was sad when it was over. There were rides and places to get food and it reminded me of a carnival.
Day 18: Friday in Nanchang
Friday morning, I walked next door to the hotel and got a donut and a pineapple bun. The donut tasted pretty much like a donut from any other donut shop back home, it just wasn't super sweet. Then, I decided to go with Keith to the college while he taught as I was feeling a bit better. So we rode the subway to the end of the line and walked the rest of the way to the college. The area seemed rougher and not as clean as Zhengzhou.
I recognized the two students who had picked us up the night before, and we talked a bit after class. Some of them had pretty good English and it was nice to be able to talk to someone even if it wasn't 100 percent good English. We talked about weather, food, basketball, and school. They were all super nice and funny! Afterwards, 4 of them went to the college cafeteria with us. I got mutton dumplings and some grape juice that tasted like real grapes not the artificial flavor.
After we ate, we headed back to our hotel. I saw something that looked really good that a girl was drinking and I asked her where she had got it. It was a very small spot and the lady working there wasn't super nice. I just hoped the drink was worth all the people crowding and the wait. Turns out it was a cold tea with whipped cream on top and cranberries. It was delicious and you could say worth the wait! We also got some cucumber Lays chips at the grocery store. These tasted somewhat sweet and you could actually taste cucumber. I wasn't sure what to think about them!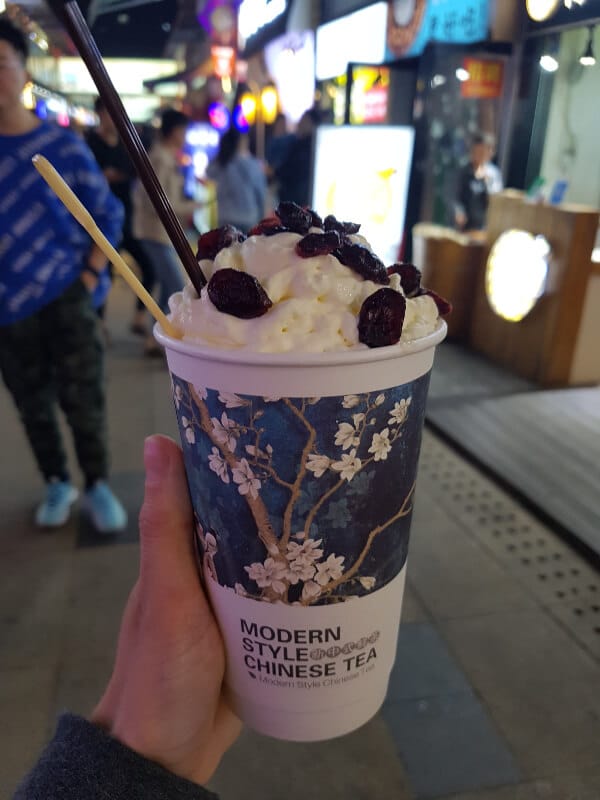 Thank you so much!
My next post will be about our weekend in Nanchang! We did some exploring and lots of walking. Did you miss last post about my last day in Zhengzhou and traveling to Nanchang?
Do you have any questions for me? I'd be more than happy to answer them! I am loving Nanchang and trying to make each moment last in this wonderful city! Thanks for following my adventures.