Lots of food and fun in Zhengzhou! Warning: LOTS OF PICTURES IN THIS POST! Now, have fun reading 🙂
Day 7: Food and Fun in Zhengzhou
Monday for breakfast I had a normal breakfast, toast and jam and fruit. For lunch, I walked to the college cafeteria to meet Keith. I chose mushroom and meat dumplings. These weren't fried or in a soup, simply boiled and eaten plain with soy sauce. They were fresh and hot and I liked them a lot!
After, I stopped at the store on campus and got some water, some lotion, some cookies and some grapes. The lotion turned out to be whitening face lotion. I couldn't seem to find body lotion anywhere! Later, I discovered Watsons sells it. Watsons is a store comparable to Shoppers Drug Mart or Wal-Greens. The cookies were like chip ahoy and they were good but tasted a bit different then the ones back home.
For supper at the cafeteria, I meant to order Beijing noodles again but ended up ordering a soup by accident. Thankfully it was a delicious mistake!
Food for Day 8
Tuesday for lunch we did the buffet in the college cafeteria which was interesting. I was not a huge fan of the options but they did have a few things I enjoyed. They also had slices of watermelon and boiled peanuts. I got a strawberry ice cream for dessert at this little restaurant away from the cafeteria. The ice cream is one thing that tastes the same thankfully!
For supper we went out to a restaurant off campus. We tried a bunch of different things: a mushroom and buk choy dish with garlic, BBQ lamb and enoki mushrooms, a whole fish, and noodles. The mushroom dish was delicious but the noodles weren't my favorite kind of noodle I have tried so far. The lamb had different spices then the kind we had tried at the other restaurant and I liked this one better I think.
The whole fish was a very cool experience! I'm not sure what kind it was (struggles of not being able to fully translate the menu!). It had lots of tiny bones which made eating it a challenge but it was so soft and flaky and the flavor was delicious. They brought it out to us in a form of a chafing dish and underneath they lit some sort of burning thing which made the liquid in the pan boil. We took an electric three wheeled taxi back to the college which was fun!
Food and Fun in Zhengzhou, Day 9
Wednesday for lunch we had some sort of fried dough and some sort of dumplings. For dinner I went to the restaurant next door and the same boy was there as the night before. Using my phone translator app I asked if I could get the same dish as I did the last time we were there. It was just as delicious the second time! After, I walked outside and down the street a ways and there was a bunch of street fountains lighting up with different colors and there was music playing. It only lasted a few minutes but it was very pretty! Then I went to the mall which was super close to my hotel. It had lots of cool stores and the basement level was all food stalls of so many different kinds of food!
Day 10: Food and Fun in Zhengzhou
Thursday morning, day 10 of our trip to China, two of Keith's students had invited us for breakfast. Keith had told them I didn't like spicy stuff so they ordered some sort of spicy soup for themselves and Keith, and then ordered me what they said using their translation app was "eight treasure porridge". It was basically very watery oatmeal with a bunch of different kinds of beans in it. Maybe the beans were the treasures? Eight kinds of beans? Either way I did actually enjoy it. I had worried all night I wouldn't like it and offend them by not being able to eat it.
They also ordered vegetables buns, meat buns, boiled eggs, some sort of fried stuffed things and some sort of dumplings. It was all so delicious and being the foodie I am, I loved watching the Chinese ladies make the dough and form and stuff the dumplings. We were told it was a traditional Chinese breakfast place.
Afternoon Adventures
In the afternoon I went to this place called Super Cake, basically a Chinese bakery and ordered two things. One was a tart that looked like a creme brulee topping and another was a pastry that the picture showed as having some sort of filling. The tart wasn't very sweet but it was tasty. However, the pastry was perfection! The filling inside was a custard of some sort that was so full it was spilling everywhere when I took a bite. I found out, they are pretty much creme puffs!
I also went back to the mall and discovered there was even more levels than I had explored the day before. There was even a movie theater and two whole floors of just restaurants. I tried some Chinese pizza which was basically dough and spices. It wasn't bad but not much to it. A few hours later, I met Keith for supper and we went to this tiny little restaurant and ordered beef dumplings.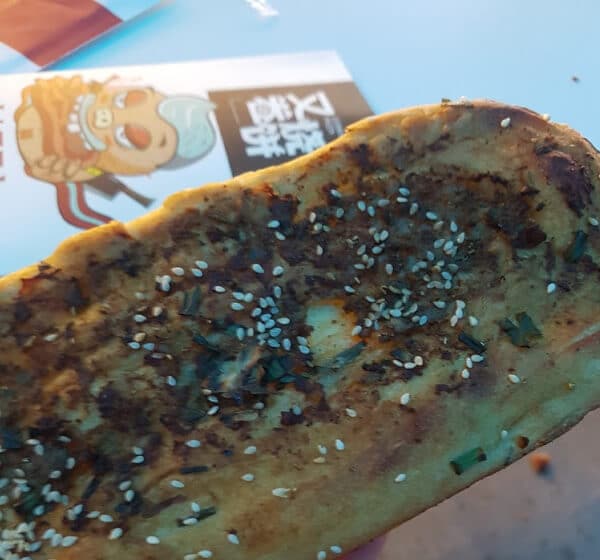 Day 11
Friday morning I woke up and had to switch rooms as I had a different reservation for the weekend. I was feeling very lonely that morning with no one to talk to. The 12 hour time difference with everyone back home is very hard to get used to. I met Keith for lunch at the school where I got Beijing noodles again. In the afternoon I ordered some chocolate ice cream and found a quiet spot on campus in some trees where I did some rough writing for my blog (I was writing this actually!) Then I went to the grocery store on campus and bought a face mask to try that night. Of course, I also had to get another creme puff. I walked across the street to Longzi lake where I sat beside a bridge and ate it.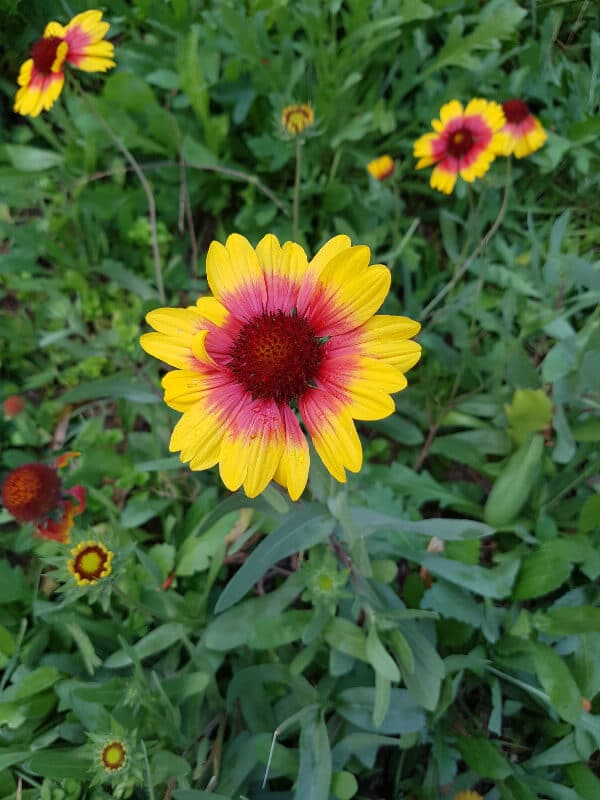 Peace and Quiet
The was lots of pathways beside the lake among trees and flowers, the sun was getting lower in the sky and the views were incredible. I then found a quiet spot in the grass by the lake to lay down and rest. It was very peaceful and helped me feel so much better. It was nice to get away from the crowds and the stares for a bit. I could hear the traffic in the background but it seemed far away in that moment. The mosquitoes soon found me so I kept walking. I walked around Longzi lake, crossed over a bridge and came back to the college. The walk was nice, the pathways weren't too crowded with people. I stopped and asked a girl if she would take a picture of me.
Here, I met Keith and we decided to get dinner at the same restaurant as the night before. This time we ordered another whole fish, fried noodles, sweet and sour chicken, BBQ lamb, and fried potatoes. I loved everything, so much flavor. I think I liked the fish we had tried the night before a little better, though.
Day 12: Food and Fun in Zhengzhou
Saturday we got up and went to another Chinese bakery called Cake Now and got some interesting breakfast options. I got a sandwich covered in egg, and some other interesting items and in between the bread layers was a hot dog/sausage.
Then we hopped on the subway and went to this huge mall in the Central Business District of Zhengzhou. I got a few more cool gifts here and I also tried some MacDonalds fries. They tasted almost exactly the same as back home and I was surprised! The mall had so many fancy stores, at least 30 different shoe stores, and all very expensive prices.
Cool lunch Experience
For lunch, we had a really cool experience. We ate at this Napoli style pizza place and sat beside a mother and her son. The boy was immediately drawn to my brother and introduced himself, telling us he was six years old. He asked my brother lots of questions. Sometimes he would ask us a question using his mom's phone to translate. His English was very limited but he did know some things which was very neat to see! Then, when the server brought a drink to their table he handed it to Keith. It was a watermelon drink and it tasted so fresh and delicious! We were blown away by his generosity but it didn't stop there. The mother ordered 2 more drinks and the boy gave us another one.
By now, no one had come up to get our order and we were kind of looking around and wondering why no one had come over. I'm not sure if the mother overheard us, but using her phone she asked if we needed a waiter. Within seconds, she had signaled one of the ladies. We ordered a pizza and then waited. The little boy got an order of fries which he shared with Keith and I. The mother took a picture of Keith and her son.
Our pizza was a vanilla cream sauce with shrimp, mushroom and avocado. It was very tasty! The pizza shop also doubled as a bakery and as we sat there, the display case filled up with bread bowls and other kinds of delicious looking breads. At the end of our meal, the mother got up and spoke to our server in Chinese. We found out she had paid for our meal. It was such a weird and wonderful feeling to have someone we didn't even know and couldn't even talk to, pay for our meal. We thanked her and went our separate ways.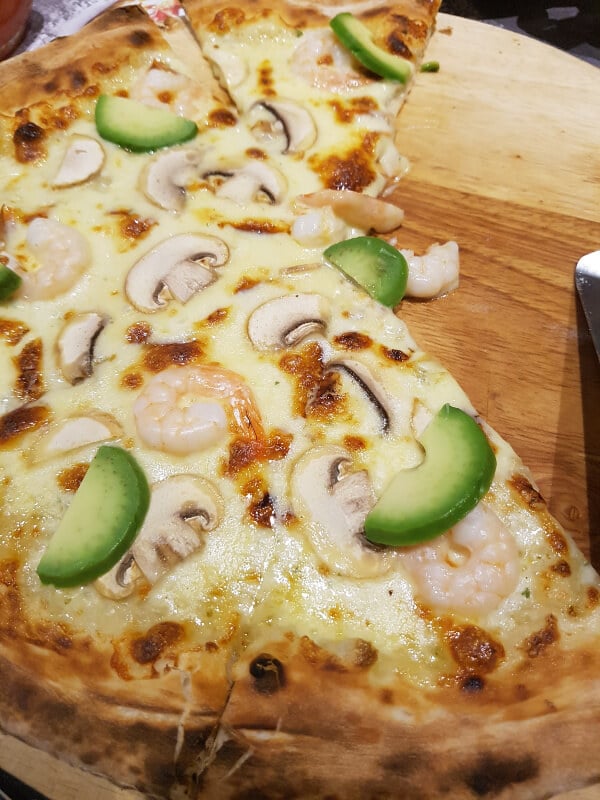 For supper we had hot pot at the college cafeteria. This time I put lots more vegetables instead of the weird meats, hoping I would like it better. However this time, it was so spicy my lips were numb by the end and I couldn't even finish it! I also tried some sort of cold tea that was so good! For dessert I had a popsicle that had different layers and was really fun.
Day 13 in China
Sunday was a lazy day. I watched some Netflix, tried some China made Doritos and fresh oranges, and my brother and I walked around the campus. For supper we had leek dumplings at the cafeteria.
Click here to read about my first weekend in China: Cool Things to See in Xi'an/Our Weekend Trip! Any questions or requests for pictures, please ask away! I'm more than happy to share anything and everything I can. And thank you so much for reading all about my food and fun in Zhengzhou!