Food in Zhengzhou: Breakfast-Day 2
This post is mainly going to be about food we ate in Zhengzhou because let's face it, I'm a foodie! Wednesday, day 2 in Zhengzhou. I had been awake since 4 am that morning and at 630 we got up and had breakfast early. For breakfast, there was an assortment of boiled eggs, fried hard eggs, pastries, fruit, noodles and rice, fungus dishes, and steamed buns. Then we went to the subway heading to the college. After all the climbing the day before, my legs were killing me. It was a struggle to walk, let alone go up any stairs.
After my brother got his key and his room where he would be staying on campus, we walked around on the campus for a bit. I bought a popsicle at the cafeteria. I'm not sure what kind it was but it was delicious! There was so many options for food and drink for the students. We checked out a Chinese grocery store where we bought some yogurt and laundry soap. . It was interesting to see all the store had and how everything was written in Chinese.
Then we walked around Longzi Lake. It is no ocean, but it is pretty in it's own way. After, we met up with some students my brother knew from his previous trip. They were all super nice and bought us lunch and hung out with us. One of the students had a sister who had studied in Montreal for a bit and she knew some English. It was fun trying to talk to them using translating apps and the very little English they knew.
Food in Zhengzhou: Lunch
In the cafeteria, the lunch the students ordered us was noodles, chicken , potatoes and bok choy. It was very spicy and when the students noticed I was having trouble eating it, they went and ordered me something different. This dish had egg, noodles, tomatoes and bok choy in a much sweeter sauce. We watched some of the activities at the school as it was a sports meet day. They had a skip rope competition which was cool to watch! Around 2, we headed back to our hotel where we fell asleep for a few hours. Then we got up and went to look for food.
Dinner in Zhengzhou
We found a little restaurant and decided on some BBQ lamb, mutton soup, and a platter of some different things. My throat was hurting a bit so the hot mutton soup was just what needed! It had cilantro and green onions in the broth. The BBQ lamb was very flavorful and I really liked it. The soup came with "bread" and was delicious but I don't know if I can call it bread as it was very dense and definitely had no yeast in it. The platter had lotus root, a cold meat of some kind maybe beef, and a mix of nuts and peppers. I didn't care for the items on the platter that much. To drink, I ordered this bottled orange drink. It had pulp in it and tasted a bit like orange juice. I loved it!
After that we came back and I took a shower and fell asleep. I woke up at 3 am again, however I was so tired I managed to sleep again till 8.
Food in Zhengzhou: Breakfast, Day 3
Thursday morning we got up and had breakfast. There was a few different things today as well as the usual fruit, steamed buns, and vegetable dishes. A few cold dishes of plants or meats, I'm not sure what they were. I didn't eat too much. After breakfast, we got ready to head to the college where my brother was teaching. Walking still hurt my legs but not as much as the day before.
Lunch in Zhengzhou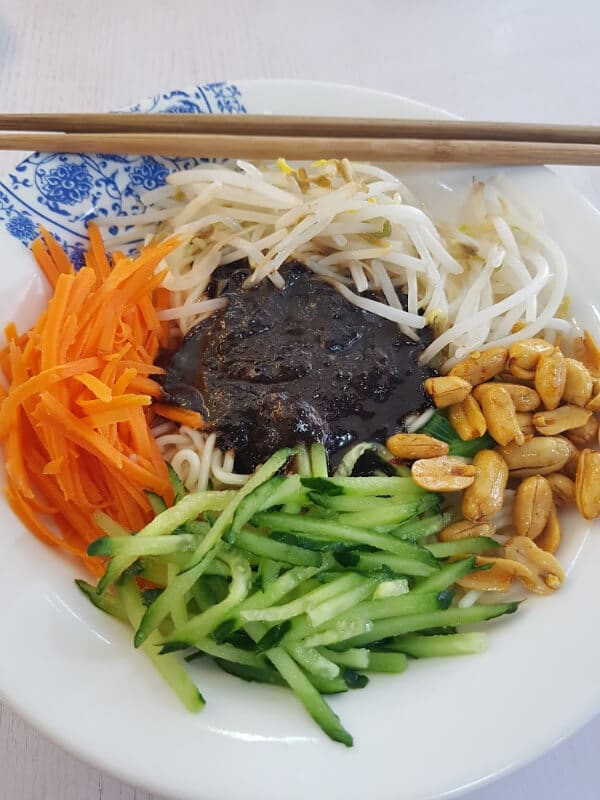 We got there early to eat lunch at the cafeteria. My brother ordered us each a dish of Beijing noodles and I really enjoyed them. I also ordered a bubble tea and the servers gave me an ice cream cone for free! Even China knows the way to my heart. I liked the bubble tea, it tasted a bit like molasses. I found it very sweet so I couldn't drink it all, but the ice cream was delicious. It was vanilla soft serve like you would get at MacDonalds, but it tasted creamier and had a good flavor. I sat in on my brothers class and it was cool to watch him teach. English is pretty much non-existent for most of the students and they had a Chinese teacher who knew some English and he would translate occasionally. After class we went back to the hotel and relaxed a bit.
Dinner in Zhengzhou – Day 3
Then we went out to find food, and we ended up at the same place we had eaten the night before. The same man was there, I am assuming he was the owner or manager. He used his phone to translate some things for us and we got some BBQ mushrooms as well as the lamb again. The mushrooms weren't the normal ones I was used to. They were enoki or the "golden needle mushroom". They were spicy and had a different "thick" texture to them. I liked them but definitely not my favorite choice of mushroom.
We also ordered noodles which he said were mung bean noodles but my google searches bring up a different noodle than the ones we ate. Mung bean according to Google is vermicelli or very thin noodles, but these were thicker. Either way they were delicious with what I think was mutton again, green onions, and some other herbs and vegetables I couldn't name. Once again I didn't sleep well that night, waking up at 3:30am.
Food in Zhengzhou: Day 4
Friday morning we ate breakfast early at the hotel and once again there were different choices. They had green beans, sweet potatoes, sweet corn. The usual eggs and melon, pastries and various kinds of sausage. Spicy tofu, fried dough sticks, some deep fried rings with what tasted like fish inside, and something like an omelette which was super good. Then Keith had some errands to run for the college. It was cloudy and overcast not sunny like the past few days had been. I hung out in his room and when he came back we went to get lunch.
He introduced me to hot pot, which is basically you pick a bunch of ingredients and then they cook it for you. I enjoyed the noodles and mushrooms but the meat was really different and I didn't care for it so much. They had so many options of things to put in your dish, many of which I have no idea what they are. After lunch, while Keith went to teach I hung out again by myself. At 6, we got food in the cafeteria again, this time rice, buk choy and some sort of pork. I wasn't really hungry, more tired than anything so I didn't eat much. That night I slept much better.
I hope you like what you are reading so far! Any questions let me know and I will try my best to answer them. Also, if you missed my first day in China, check it out here. Thanks for reading, next up, our visit to Xi'an.