Who doesn't love a good chicken stir-fry? And when it's super easy to whip up, then you love it too! Chicken Teriyaki Stir-fry Recipe is delicious and super simple, which makes it a win win for everyone.
To make Chicken Teriyaki you just need a few basic things: chicken, soy sauce, brown sugar, garlic, and ginger. Then you can go crazy deciding your other options, like rice or rice noodles. Peppers, broccoli, mushrooms, onions, or all of the above! Sesame seeds and green onions for garnish?
What can I serve Chicken Teriyaki Stir-fry Recipe with?
This stir-fry is delicious served with rice noodles or plain white rice. You can serve the stir-fry over the noodles or rice. Or you can add the noodles right in with the chicken and sauce like I did.
What veggies can I add with the chicken?
You have so many options with this recipe! You can do peppers, broccoli, mushrooms, onions, carrots, or green onions.
Can I add honey instead of brown sugar?
If you are trying to cut back on sugar, feel free to use honey instead of the brown sugar.
What kind of chicken should I use with Chicken Teriyaki Stir-fry Recipe?
You can use boneless chicken thighs or chicken breasts. I cubed chicken breasts and that was easy and delicious but chicken thighs would be just as good. It's up to you, depending on what kind of chicken you like best.
I am trying to eat low carb. What are some suggestions to modify this recipe?
Serving cauliflower rice with the chicken is a great idea. You can also use xanthan gum instead of cornstarch. Just add it a bit at a time as needed because it thickens fast.
How do I make a slurry?
You just mix 2 parts water and 2 part cornstarch together in a small cup or dish, making sure there are no lumps. Then you add it to your pan of liquid you are trying to thicken. Usually you add 1-1 1/2 tablespoon of cornstarch per one cup liquid in your recipe. So if your recipe calls for 2 cups water, for an example, you would use about 2-3 tablespoons of cornstarch and about 1/4 cup of water to make your slurry.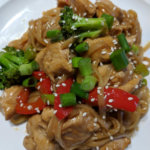 Print
Chicken Teriyaki Stir-Fry Recipe
A yummy stir fry option for dinner tonight
Ingredients
2

cloves

garlic

2

teaspoons

fresh ginger, minced

2

tablespoons

sesame oil

plus extra for frying

1/3

cup

soy sauce

2

tablespoons

brown sugar

1/4

cup

water, plus 2 tablespoons for slurry

1

tablespoon

cornstarch

2-3

chicken breasts

1/2

red pepper, sliced

1/2

cup

broccoli florets

3

green onions, sliced

red pepper flakes, optional

sesame seeds
Instructions
Slice peppers. Mince garlic and ginger.

Cook chicken in sesame oil in a skillet on medium heat. Add peppers and broccoli and cook just until tender.

Mix together water, soy sauce, ginger, garlic, brown sugar, and 2 tablespoons of sesame oil.

Pour into skillet. Make a slurry with cornstarch and water and add it in, stirring as it thickens.

Serve over rice noodles or rice with sliced green onions, sesame seeds or red pepper flakes if you wish.
Nutrition
Calories:
243
kcal
|
Carbohydrates:
11
g
|
Protein:
27
g
|
Fat:
10
g
|
Saturated Fat:
2
g
|
Polyunsaturated Fat:
3
g
|
Monounsaturated Fat:
4
g
|
Trans Fat:
0.01
g
|
Cholesterol:
72
mg
|
Sodium:
1218
mg
|
Potassium:
538
mg
|
Fiber:
1
g
|
Sugar:
7
g
|
Vitamin A:
195
IU
|
Vitamin C:
14
mg
|
Calcium:
29
mg
|
Iron:
1
mg