Belgian pancakes is such an easy recipe and these little pancakes are fluffy and full of flavor! These pancakes are very similar to the well known French pancake, the crepe.
They are a perfect dish for breakfast or a snack as you can cater to whoever you're with or whatever you're feeling like (if you cook for one, like I do!) Feeling sweet? Try fruit and whipped cream. Feeling salty? Go with some ham and cheese! Feeling extra sweet? Nutella is always a great go to!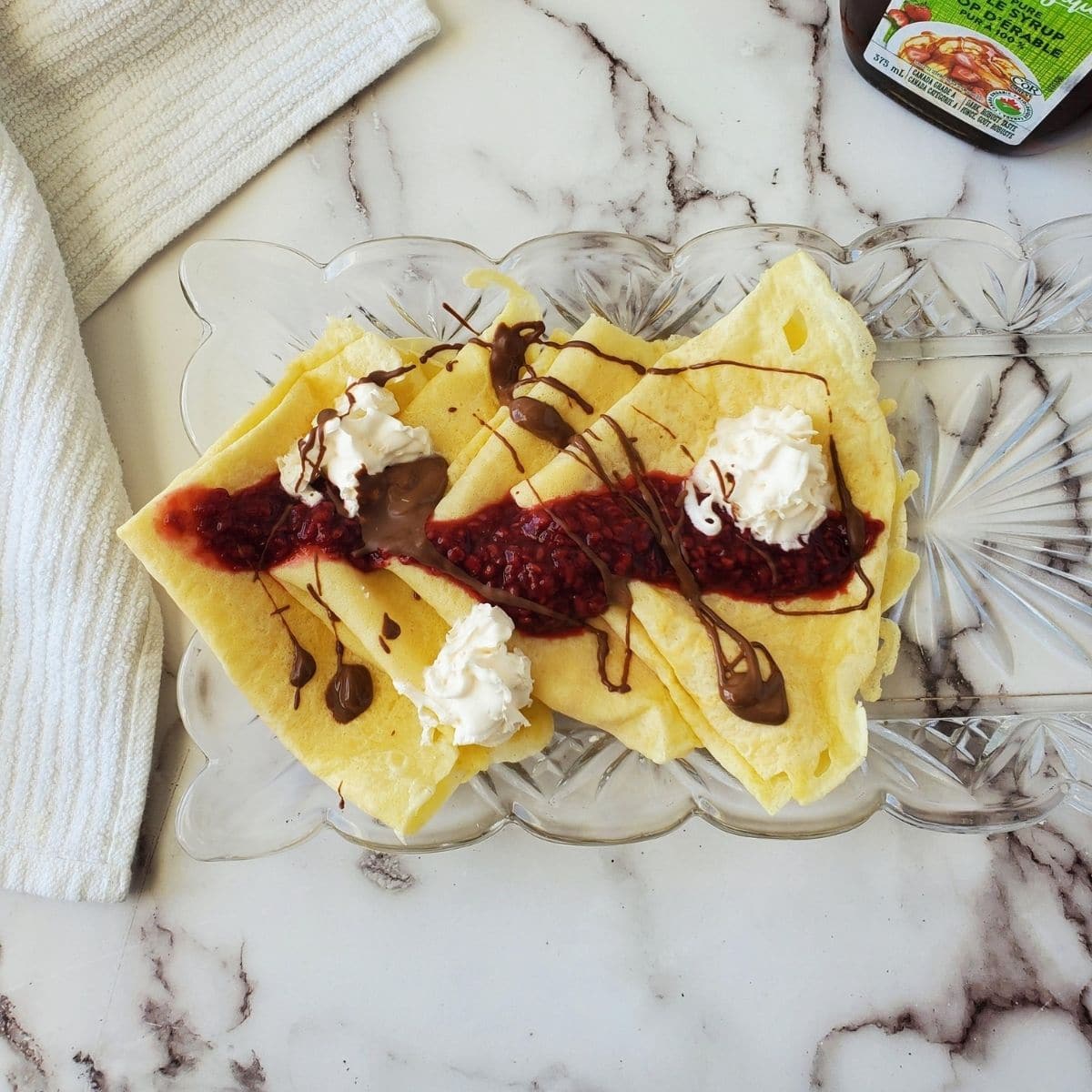 What does sparkling water do in Belgian Pancakes?
The only difference between crepes and Belgian pancakes in the ingredients is that Belgian pancakes are made with club soda or sparkling water. This adds air which makes your pancakes lighter and fluffier. I used Perrier blackberry flavored sparkling water and it was delicious!
If you don't have sparkling water, club soda works just as well!
How do I serve Belgian Pancakes?
Wow! I don't even know where to start!
Sweet options:
Nutella (have to admit that's a great place to start!)
Berries
Bananas
Sliced peaches
(Any fruit really, get creative!)
Cottage cheese
Syrup
Butter
Jam or jelly
Caramel sauce
Lemon curd
Powdered sugar
Berry compote (Try my Raspberry Compote with Secret Ingredient!)
Melted chocolate drizzle
Savory options:
Ricotta cheese
Ham
Bacon
Cheese
Eggs
Fried mushrooms and peppers
Hot sauce
Salmon with capers
Goat cheese
Basically, there's options for everyone!
Step by step instructions to make Belgian pancake Batter:
Step 1: Stir milk and eggs together.
Step 2: Add in flour, stirring constantly so no lumps form.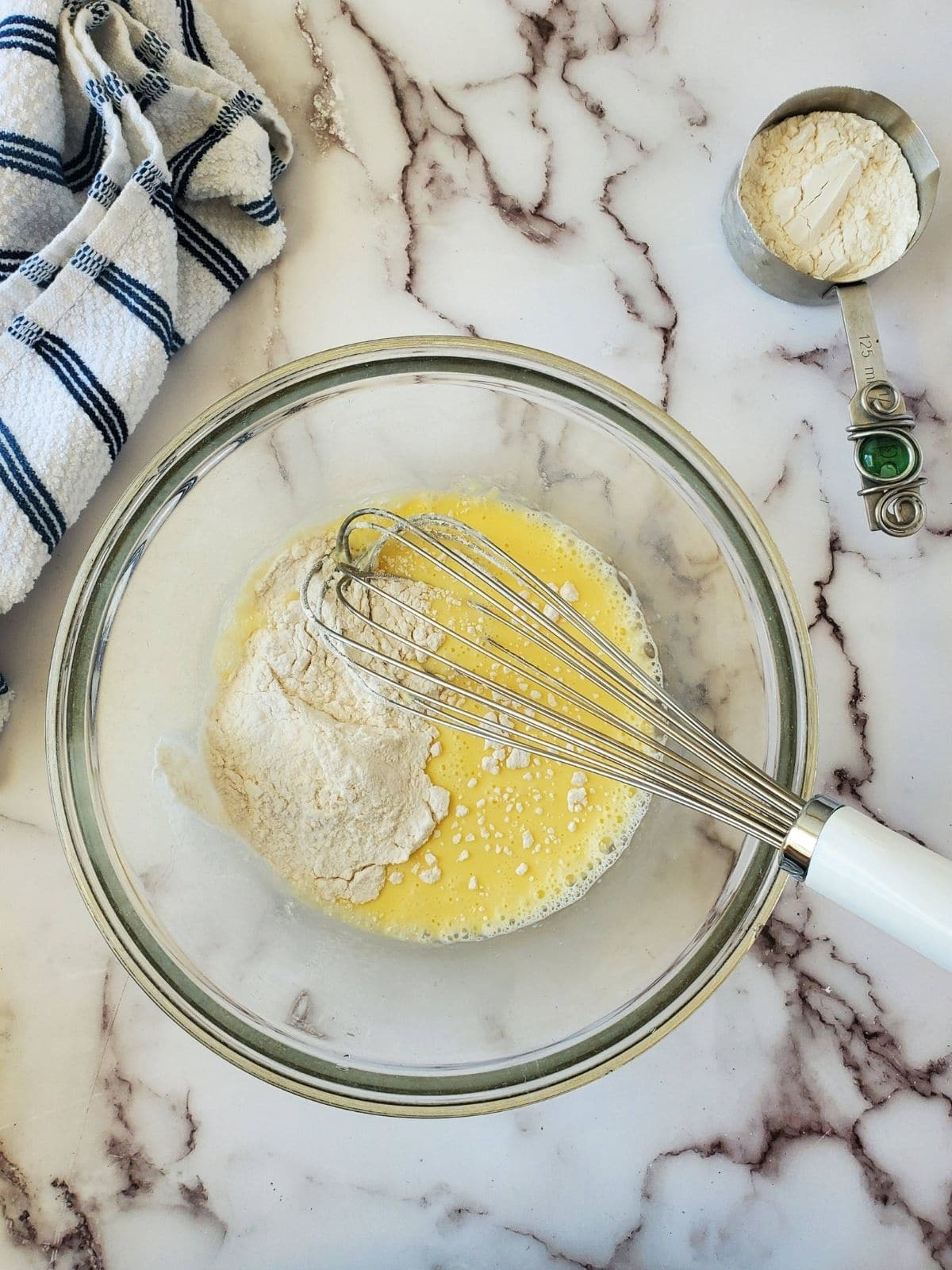 Step 3: Add melted butter and vanilla.
Step 4: Add sparkling water and salt.
After your batter is made, it's recommended to refrigerate it for 30 minutes before making your pancakes.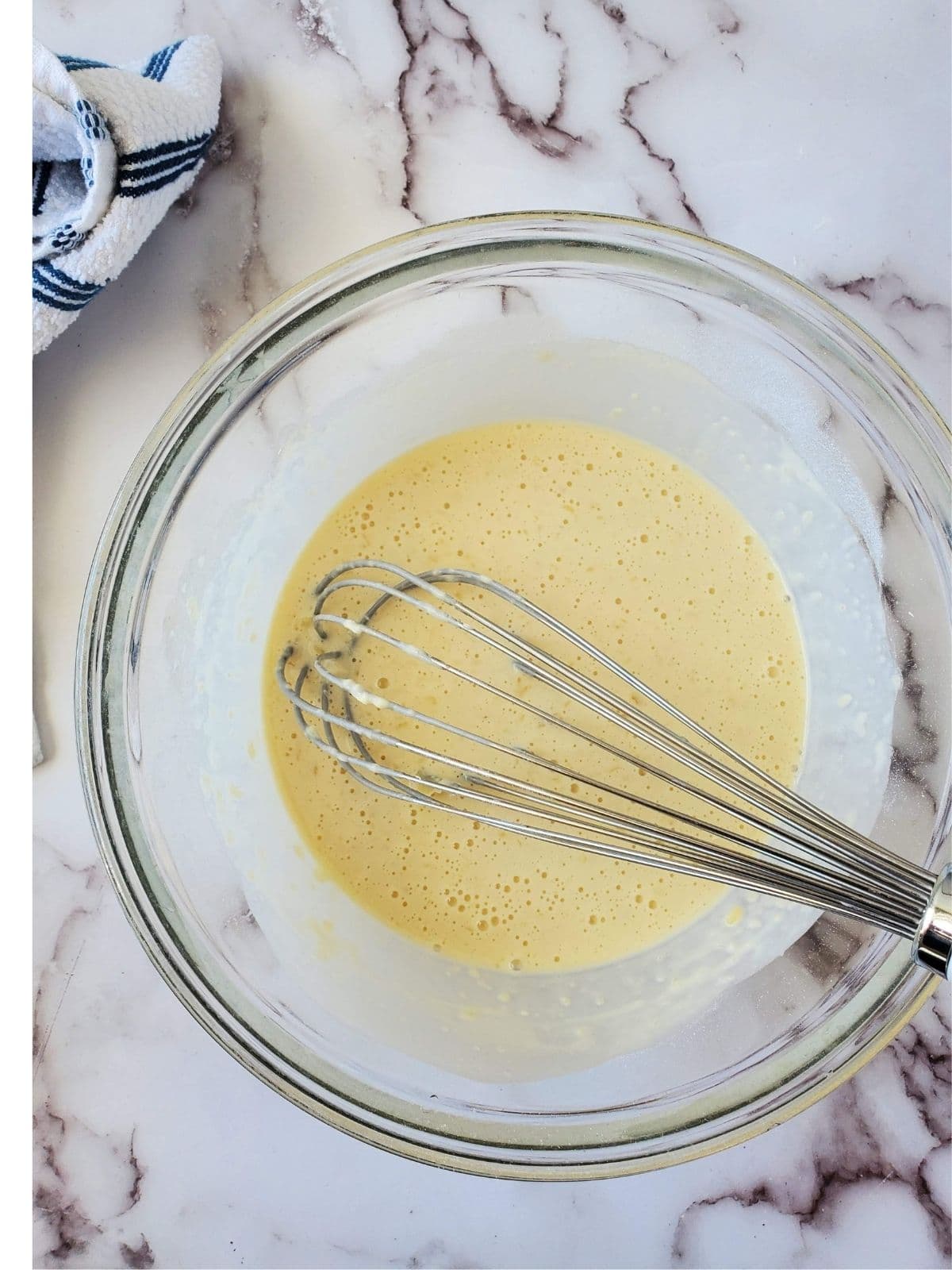 Step 5: After 30 minutes, heat your skillet and add butter. Pour about 1/4 cup of batter onto the hot skillet and twirl the pan to create your flat pancake.
When bubbles appear, flip your pancake over and cook for about 30-60 seconds longer.
Things to keep in mind:
Refrigerate your batter before cooking your pancakes!
Use butter if you can, the taste is much better!
Make sure the skillet is hot when pouring on your batter.
Use sparkling water (or club soda) because it is what makes the great texture of these pancakes!
Make sure to twirl the pan so you get an evenly cooked pancake!
Why do I need to refrigerate my batter?
Refrigerating your batter allows the starch in the flour to fully absorb with the liquid. This thickens the batter and helps produce those fluffy crepes we all want!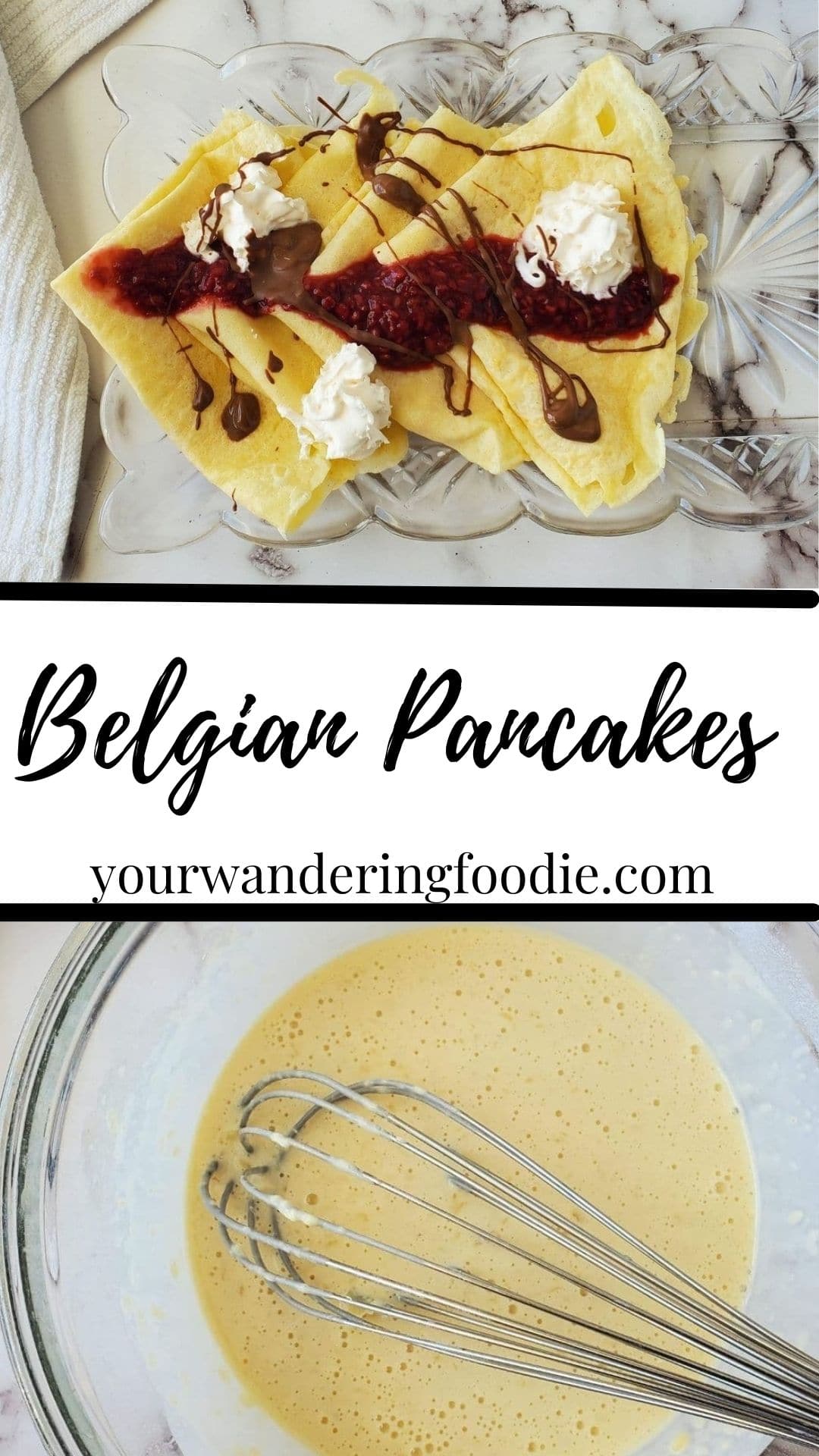 Print
Belgian Pancakes
Somewhere between a crepe and a pancake, this Belgian Pancake is a great way to enjoy breakfast, snack or dessert! With this easy step by step recipe, you can enjoy these pancakes with whatever toppings you choose.
Ingredients
1

cup

milk

2

eggs

1 3/4

cup

flour

4

tablespoons

butter

melted

1

teaspoon

vanilla

1

cup

sparkling water

1

teaspoon

salt
Instructions
Whisk together eggs and milk in a large bowl.

Add in flour, whisking constantly so it doesn't lump.

Add melted butter, sparkling water, vanilla and salt.

Whisk until blended well.

Refrigerate batter for about 30 minutes.

Heat a skillet with a little bit of butter.

Pour about 1/4 cup of batter onto hot skillet and swirl it to form a circle.

When bubbles appear, flip the pancake and cook for 30 seconds to a minute longer.

Repeat until all the batter is used.

Serve with whatever toppings you choose.
Nutrition
Calories:
148
kcal
|
Carbohydrates:
18
g
|
Protein:
4
g
|
Fat:
6
g
|
Saturated Fat:
4
g
|
Polyunsaturated Fat:
1
g
|
Monounsaturated Fat:
2
g
|
Trans Fat:
1
g
|
Cholesterol:
47
mg
|
Sodium:
301
mg
|
Potassium:
70
mg
|
Fiber:
1
g
|
Sugar:
1
g
|
Vitamin A:
227
IU
|
Calcium:
38
mg
|
Iron:
1
mg