In January, my brother Keith and I went on a 7 night cruise with Royal Caribbean onboard the Oasis of the Seas, one of the largest cruise ships in the world. We ate so much good food, visited some amazing ports, got a sun tan, and made some incredible memories. So grab your cruise pass as I walk you through a day-by-day itinerary of all the sun and fun!
Our adventures started with a non-stop morning flight to Ft. Lauderdale out of Calgary. We didn't get seats together but the flight ended up being quicker than the itinerary originally said which was nice. We landed in Florida around 5pm and it was starting to get dark. We found a bus going to Adventura mall in Miami for $2 each and so we hopped on it. It was a weird bus ride as it was a very full bus and we had 3 suitcases between the 2 of us. There was a guy in a wheelchair beside us and for most of the ride I had a death grip on the bar above my head and holding my suitcase with my feet so it wouldn't roll into him or someone else!
We got to mall and went to Zuuk kitchen where we got Mediterranean bowls. Then, we requested an uber from the mall to take us to our Air bnb in Miami. Turns out, the address of our air bnb is also an address in Ft. Lauderdale (which is the one I put in by accident). So a 45$ Uber ride later we were at our air bnb.
The next morning we walked to get breakfast. The streets were busy, there was lots of colorful art everywhere as well as mosaics on the sidewalks.
At the Bagel Club, I got an avocado bagel and iced chamomile tea. My brother got a spicy smoked salmon bagel. Then we walked back to air bnb, checked out, and took an uber to Bayside marketplace. My brother got some sunglasses and sandals.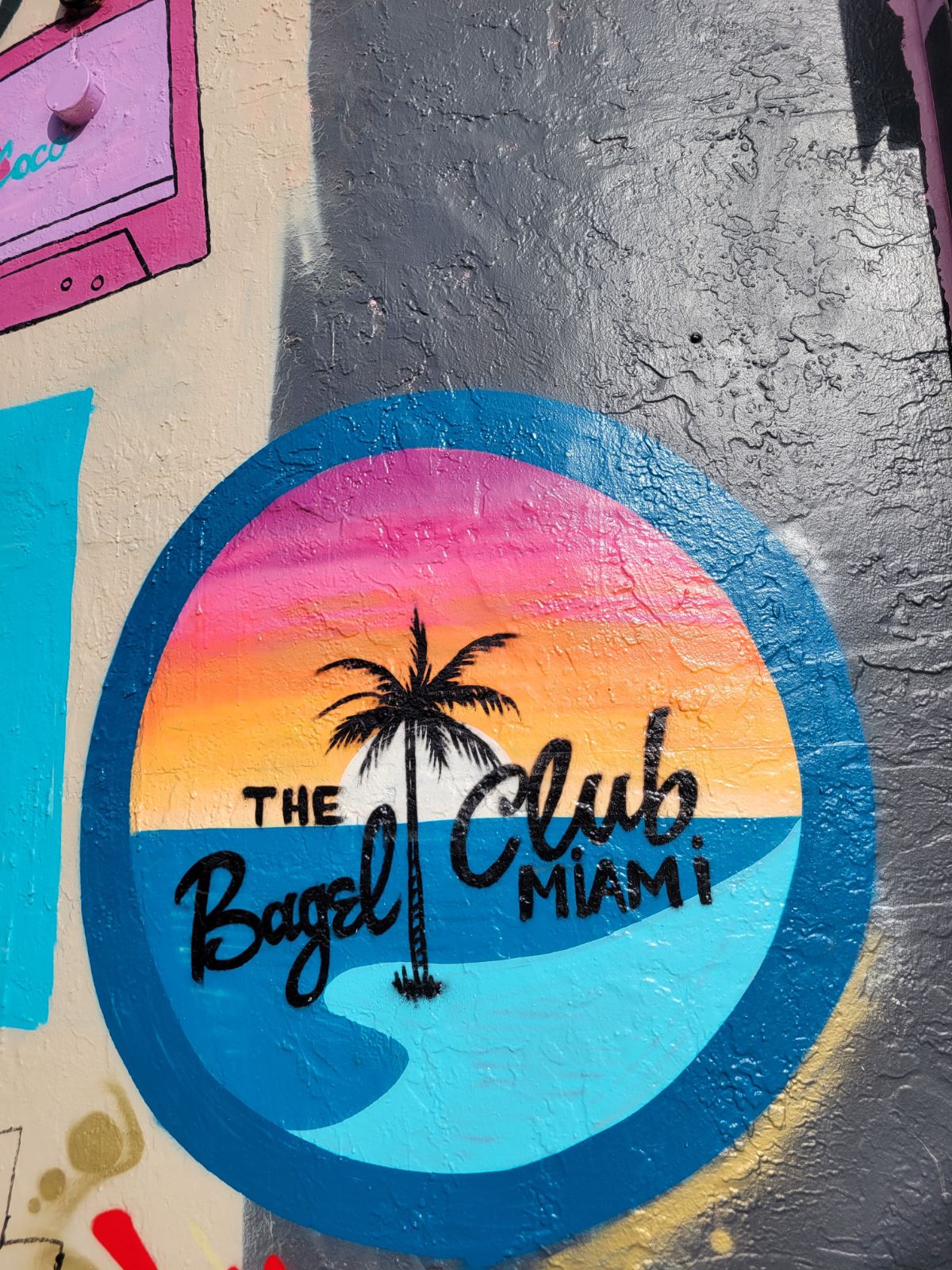 Then we walked to the cruise terminal which took us about 45 mins. While it is very possible to walk to your cruise terminal, keep in mind it may be hard with your suitcases as there are lots of roads intersecting pathways and some of them are curved with no real good place to cross. Check in was super simple and quick, and we were on the ship in less than 20 minutes. We found chocolate covered strawberries waiting in our room!
The first thing we did after leaving out suitcases in the room was grab some Mexican food from El Loco. We watched the sail away, explored the ship, grabbed a slice of pizza, watched the sunset and then got ready for dinner.
It was a casual night so I just wore the outfit I had on, jeans and a cute top. I tried escargot which was drowned in butter and served with some bread, so good. I also had the crab cakes, stuffed portobello mushroom, and fried chicken. Key lime pie was for dessert.
The dining room served dinner every night and were were able to select the time we wanted using the Royal Caribbean app before our cruise. Or we could do it when we got on board (a little harder as times got booked up!) or even just simply show up! You can choose between My Dining Time or traditional dining. We chose My Dining Time as it allows you to be flexible and pick between 6 and 9:30pm when you want to eat. This was helpful when coordinating excursions and events with when we wanted to eat. My Dining Time tends to have a longer wait time, but we showed up early mostly every night and didn't wait longer than 15 minutes to get to our table.
Traditional dining is the same time every night so it's great if you don't need or want to plan around anything and it usually is scheduled to accommodate time to get to the evening shows, if you are planning to see those.
Most nights we were seated in the same section (exception of 2 nights) and had the same waiters and were seated next to the same guest, depending on the time we chose. You could also chose to show up without a reservation, and you'd wait in a separate line with other people who also didn't have a reservation.
After dinner, we went to watch the party band and the midnight balloon drop in the grand promenade.
Day 2
The next morning we had breakfast at the buffet and explored the ship a bit more before our sushi class at 10. They showed us how to make nigiri, temaki, and uramaki and then we got to eat it afterwards! Then we laid on the deck for a couple hours, taking a break only to grab lunch from the buffet. They had some delicious sweet and sour pork and chicken alfredo.
Dinner was at 7, the dress theme being fancy and the menu theme being French. I tried the French onion soup which was the best I've ever tried, the iceberg wedge salad, and buttermilk calamari. For the mains I tried seafood linguine, (another of my favourites!), beef bourguignon, and herb crusted salmon. Dessert was creme brulee. Over dinner we met a really nice couple, Joe and Gail, who we ended up hanging out with a few times on the cruise.
Every night, our meal started with a basket of fresh bread and rolls to eat while you ordered and waited for your food. Then, they would always offer tea or coffee with the desserts.
After dinner, we went to check out the aqua 80's show. You need tickets but you can also wait in a different line and if it's close to starting time and there is still seats open (some people book tickets and don't show up), then you are allowed to see if you can find an empty seat. There ended up not being two seats together so we had to stand but at least we got in.
I highly recommend this show! The music was super good and the show itself was incredible. You had to really pay attention as there was so many surprise elements: cast members gliding through the air, crazy high dives into the aqua pool, and acrobatics. It would have kept me on the edge of my seat had I been sitting!
Day 3
We woke up and going out on deck, we could see that we had docked in Haiti. The sun had barely risen and the air was still and already warm. The dark green hills of the island loomed in the distance and the sun was breaking through the clouds in bright colors.
We had breakfast at the buffet: eggs, sausages, beans, fruit, hash browns and juice.
Getting off the ship in Labadee went smoothly and we were greeted by Haitian people playing drums, dancing and singing. Labadee was quiet as not everyone was off the boat yet. We walked around, taking photos and soaking up all the beauty. Haiti is a very poor country with much unrest. However, Labadee is fenced off and is basically a private resort. It's a weird feeling to be in "paradise" knowing that there is so much turmoil going on in other parts of the island.
Our first excursion was a walking tour. Our guide Jocnel (probably not spelled right) was very friendly and informative. He showed us the dragons head and told us a lot about the first discovering of Haiti.
After the tour, we walked around some more, bought some souvenirs and ate lunch at the buffet that was included. The buffet had fruit, burgers, hotdogs, BBQ, and salads. Buying the souvenirs was an interesting experience. The locals were selling their items but they were very pushy and asked for more money then the items were worth. I felt bad because obviously they are trying to make a living but it was a weird experience.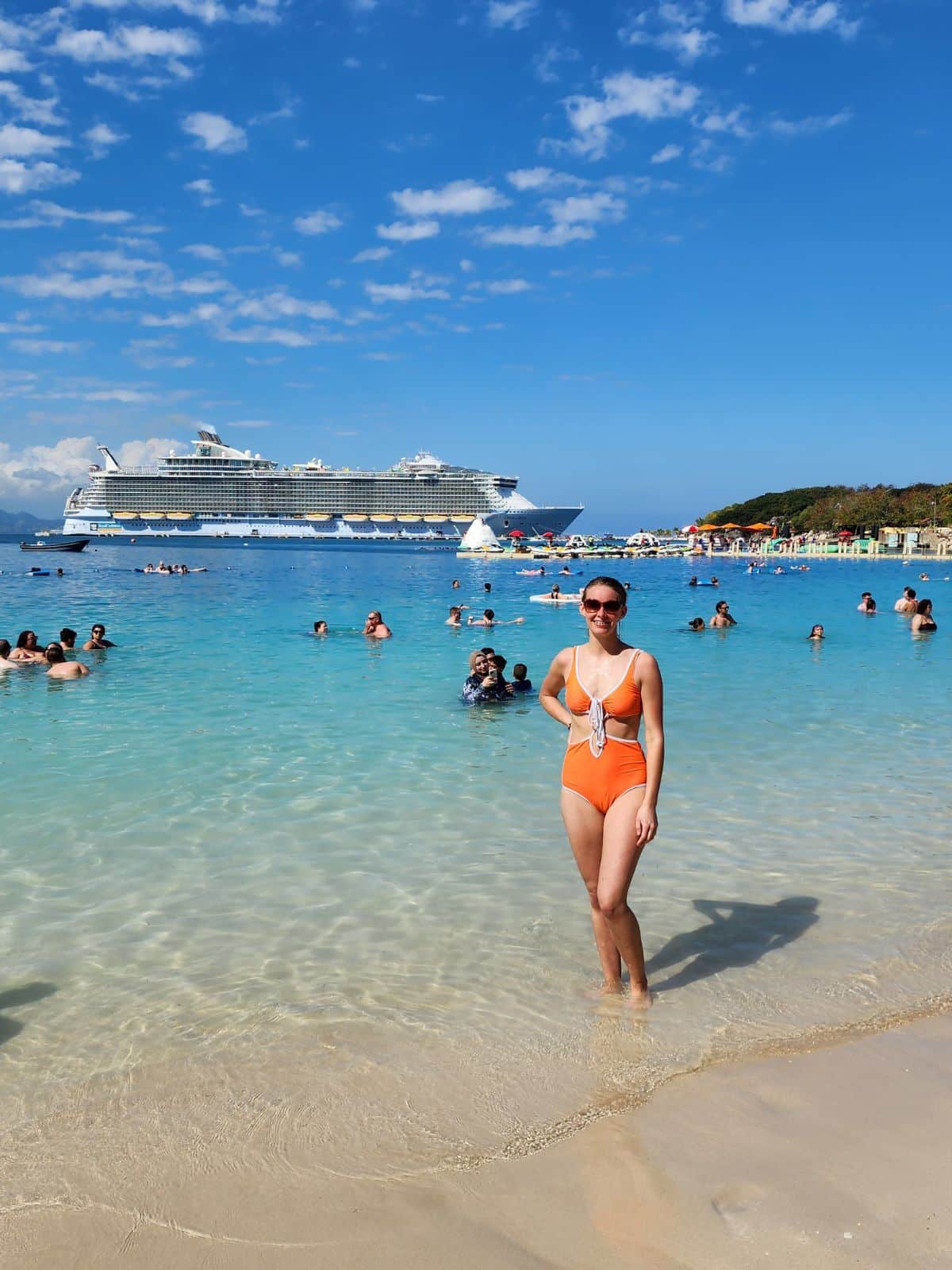 After taking a quick dip in the ocean (with a view of our ship in the background), we headed to our next excursion. Jet skiing for the first time! I got laser eye surgery last year and it was definitely one of the best decisions I've made. It was a whole different experience being on the water while being able to see and not have to worry about water splashing my glasses or my glasses flying off! They did a safety demonstration and then we were out on the water! I was nervous at first but it didn't take long till I was speeding along with the wind whipping my hair and the ocean splashing me with it's playful mist.
There was about 12 of us, and then the guide and the chase. The guide led the way and everyone else followed behind about 90 ft respectively. The chase went along the outside making sure everyone could keep up. We had to follow along right behind each other in the guide's path in case there was rocks, etc. The guide led us around so we could see different parts of the island from a distance, a good view of our ship and also a spin out in the wide open ocean.
Before heading back to the boat, we took some photos by the Labadee sign and the huge chair. We watched the sail away while eating nachos from the Mexican place. Then we tried to lay on deck, but it was super windy. Caribbean was the theme for the dining room that night.
For apps I tried the tofu and avocado salad and the Asian style pork bao tacos. The mains I chose the shrimp dinner and the pesto tagliatelle with mushrooms, tomatoes and parmesan cheese. Dessert was blueberry crumble with ice cream.
After dinner, we watched the "Frozen in Time" ice show. It was slow paced but was incredible to see the dancers twirling, juggling and doing all kinds of tricks on a moving boat.
Then we went over to the aqua show and watched it for the second time. This time we had tickets so we were able to chose seats right in the center of the audience. There are also the seats up front in the "splash zone" but we never sat there. Maybe next time!
Day 4
Hump day on the cruise started out slow because even though it was a port day we didn't arrive in Puerto Rico until 2. So we decided to take advantage of the late start and have brunch in the dining room. I got a fruit plate and the eggs benedict. As we were eating, we heard a guy yelling just outside the dining room. There was quite a commotion for a bit then security came over and everything was fine, but it was an exciting start to the day!
After eating, we walked around for a bit before heading back to the room to get ready to get off the ship. And then!! I'm not even sure how I did it but I locked us out of our safe which had our passports, money, etc. in it which we needed to bring with us. So we had to wait for security to come help us out.
Once we got off the boat, we walked around a bit in Old San Juan before heading to Castillo San Cristóbal, one of the two old forts there. After walking around and taking some photos, we headed to get some food. We ended up at Ajo Del Pais which had a lot of cool items inside including a bike hanging from the ceiling. I forget exactly what I got but it was super good!
Then we took an uber to Isla Verde Beach where the sun was starting to set. We got changed behind some rocks as all the washrooms were closed at 5.
The sky put on a show for us with rain in the distance, dark rain clouds that threatened rain (but never did!), then a full rainbow and to top it off a gorgeous sunset. As I swam in the ocean watching all the beauty, I was very tempted to not get back on the cruise haha. We walked back to boat in the dark, stopping to buy some souvenirs.
Dinner was Mexican that night since we were in Puerto Rico! I started off with roasted poblano pepper soup and grilled corn cakes, evened it out with trying the chili-crusted tofu tacos, and then topped it off with the toffee cheesecake. After dinner we watched the sail away before heading to bed.
Day 5
We ate at the buffet and then followed the line of people getting off the boat in St. Thomas. We took one of the island taxis to downtown. Here the shops weren't open yet and most of them were jewelry shops offering duty free prices. So we tried to look for another taxi heading to Magen's Bay. We hopped on one of the island taxis in hopes it was heading there or to get some info. One of the ladies gave us a number for a personal taxi and hoping off, we immediately realized we didn't have service to call anyone.
Looking around, we spotted Ricky. Or rather he spotted us. He was a friendly man, standing beside his van, shining up his windows. "Are you looking for a taxi?" he called out, beckoning us over. Thinking we were going to get scammed, but also not sure what else to do, we walked over. He quoted us a fair price and we agreed and when he finished shining his van, we started driving.
He was very informative about the island and also open about his life. He shared with us that he had been a chef in Texas, but moved to St. Thomas where he now he owned a boat and would travel all over the islands. I asked him what his favourite island was and his answer both thrilled and surprised me. "I don't have a favourite," he explained. "It's like asking what food you're craving today. It really depends on your mood." Imagine living in a place where you have the option to decide what island you're "craving"!
On the way to Magens Bay, Ricky said he was going to make a detour to Drakes seat for no extra cost since it was out first time to the island! This is supposedly where Sir Francis Drake sat, keeping a lookout for enemy ships. Today, you get a magnificent view of the Virgin Islands and the simply stunning blue waters where the Atlantic Ocean and Caribbean Sea meet.
The food at the Magens Bay Beach was crazy expensive so luckily we brought snacks which we ate. The water was so clear and beautiful although unfortunately the sun stayed hidden most of the day. When it did peek out from the clouds, the water seemed to sparkle and shine like diamonds.
Unfortunately there was only island taxis to take you back to the boat which cost $15 per person but as it was the only option we had to go with it. I browsed the shops by the boat while my brother went to Emerald Beach to get some sand. There was a good view of the airport and planes taking off and it was walking distance from the boat so you would save on taxi fare if you chose this beach. Granted, the ride to Magens Bay had some stunning views so might be worth it if it's your first time to the island.
When we got back on the boat, however, our snacks were wearing off and so we made a beeline for the hotdog stand. Hotdogs in hand, we headed to the top deck to watch the sail away and then the sunset for the first time on the cruise. If you've never watched a sunset from a cruise ship, you're missing out! It happens relatively fast and there's nothing quite like watching the sun slip below the horizon with nothing to block it.
Dinner was Italian night and I got parmesan arancini, minestrone soup, chicken parmesan, and of course tiramisu.
After dinner, we went to the liquor shop for free vodka samples. The guy giving out the shots was nice and Keith was looking at buying some vodka. The guy asked him who it was for, his girlfriend? My brother answered he didn't have a girlfriend and that I was his sister. Well, immediately the guy became even friendly and started offering us more shots. He pointed out the strawberry and cream Baileys and said maybe I wanted to get some. I said I was good, and he offered me a shot. Even when I said "I'll take a shot but I'm not going to buy any," he still gave me a shot as well as a sample of another vodka.
Afterwards we met Joe and Gail at the Latin bar. There was dancing and singing and the chocolate martini I got was delicious! After drinks, Keith and I watched Aeromyth, the Aerosmith tribute band.
Day 6
I got up early and went to the adults only whirl pool and hot tub. We had breakfast at the buffet and then went to the Captains Corner which was a little informative session about the cruise ship and the behind the scenes.
We had lunch in the dining room and it was one of the best meals! I got mozzarella sticks to start and then buttery spinach and steak with truffle fries and bearnaise sauce. Keith got a seafood sandwich and we got mushroom and cheese gnocchi to split.
After, we went to the back of the ship on the walking track deck. That was my favourite place to go because it was quieter than the deck but there was chairs to sit in and you could still nap in the sun. It was also pretty cool to watch the water churning from the engines as it was directly at the back of the ship.
We went to check out the flow rider competition before dinner which was cool to watch as the sun was setting. We also went down the Ultimate Abyss which is the tallest slide at sea, being 150 feet tall!
Dinner was Royal night or otherwise known as lobster night. I got the French onion soup again and for the mains, the lobster of course and also the cheese tortellini which was incredible! Dessert was strawberry shortcake and baked Alaska. We had drinks with Joe and Gail again, this time on the rising tide bar. This bar had a cool atmosphere and it traveled slowly between decks giving you views of the ship.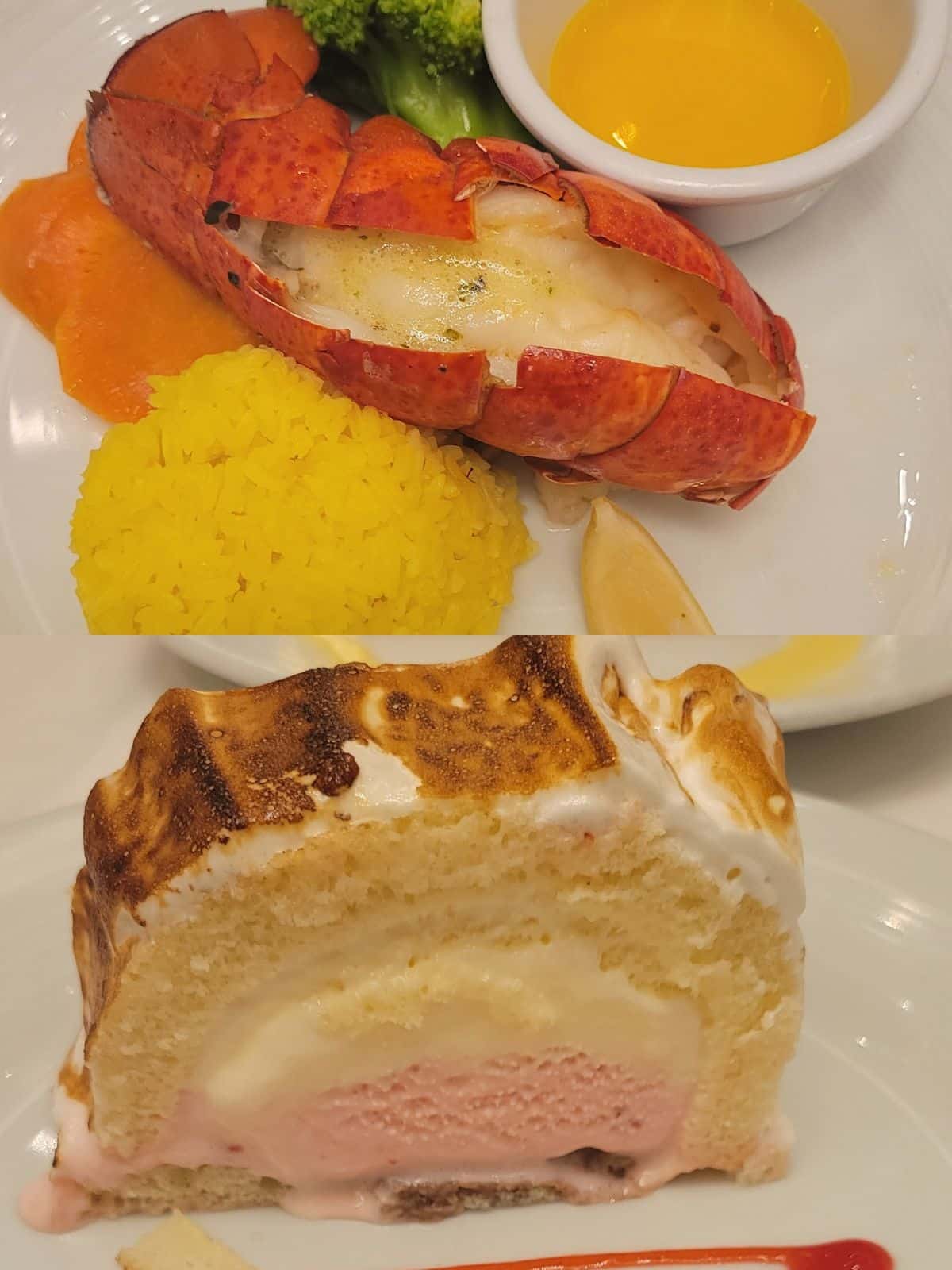 Day 7
We had breakfast in the dining room again as it was our last day of the cruise. I had a fruit cup, French toast and sausages. Then we headed off the boat to explore Coco Cay, Royal Caribbean's private island in the Bahamas.
Coco Cay has free lockers you can use so it helps to get there early to take advantage of this great amenity!
First stop was the waterslides, which we'd bought an excursion pass for. There was different kinds of slides: some had drops, some required tubes, some were body slides, some had huge drops. I am scared of heights so I almost chickened out on the ones with huge drops but I made myself do them and I'm glad I did!
From this list : Coco Cay's Waterslides my favs were the Splash Speedway, Screeching Serpent, The Slingshot, and Dueling Demons. Daredevil's Peak was fun but the lineup was always huge and so we only did it once. But other than being the highest waterslide, I didn't find it that thrilling.
Ironically, if you notice, the waterslides that had the most thrill were my favs, so maybe I am more of a thrill seeker than I think I am. I just have to take that big step or in this case, fall haha!
Lunch was the same free buffet that they had on Haiti. I really liked this amenity as it made it convenient to grab snacks, lunch, drinks or whatever you needed and not have to worry about bringing money to pay or wasting time going back to the ship. Funnel cakes and watermelon were also a perfect snack before heading to South Beach after the waterslides. We swam in the ocean for a bit, then headed back to the water slides.
Suddenly, I realized I had lost my sea pass which was super weird as I had it in a plastic case on my lanyard. And I had only set it down when we went swimming. A quick back track showed no trace of it. I was worried because you needed your sea pass to get on the boat as well as enter certain parts of the island. (waterslides, pools, etc.) And then I was worried that someone would find it and use it to get drinks and rack up my credit card bill since your card is attached to your sea pass.
So, I ran back to the ship to report my card lost and get a new one. It didn't take long till I had a new sea pass in my hand, but then I discovered, since it was so close to the time of departure of Coco Cay they weren't letting people off the boat again. So unfortunately I missed about 45 minutes of extra waterslide time. But I like to think it's cool that I left a part of me in the Bahamas haha!
While I was waiting for my brother to get back on the boat, I ended up leaving my lanyard in the room, locking myself out of the room. (Yup, I know, it was not my day!). And of course, it was the only day where there wasn't a steward in sight! I ended up waiting for my brother to get back on the boat. Since we were already in our swim suits we decided to try out the waterslides on the ship.
Dinner was super good the final night! For the apps, I got a Mediterranean tapas plate and pan seared asparagus. The asparagus had a hazelnut pesto drizzle with a touch of white bean hummus and the flavours together were mind blowing.
For the main course, it was braised lamb which was fall off the bone melt in your mouth good. Dessert was a delicious brownie with caramel popcorn on top.
For the last night, I rode the carousel just to say I did and then we watched the music show which was the party band featuring the Areomyth band and also some karaoke.
The next morning, my brother and I got off the ship, rented a car and drove to the Everglades Safari Park, where I got to go on my first air boat ride! We saw alligators, crocodiles and cool views of the Everglades.
We spent the night in Ft. Lauderdale, right by the airport. We got to relax in the hot tub while watching planes fly very low overhead. We ate at The Field Irish Pub, enjoying a blackberry spritzer and a steak and Guinness mushroom pie with a side of potatoes and peas.
The next day we went to Hugh Birch State Park where we did some walking and ate lunch at the Park and Ocean restaurant! Fish tacos for the win with panko crusted mahi. Then we drove to West Palm Beach and got Chick-fil- A on the way back.
And that concludes our Florida/cruise trip of 2023! Also, if you think this was a ton of photos, think again as I have so many more I couldn't share haha! It was super hard to try and figure out what photos to include as I have so many good ones. And sorry not sorry for all the food photos, it was just too good not to share and I am a foodie after all! That being said, if there's a picture you want to see that I didn't include or you have a question, feel free to reach out!